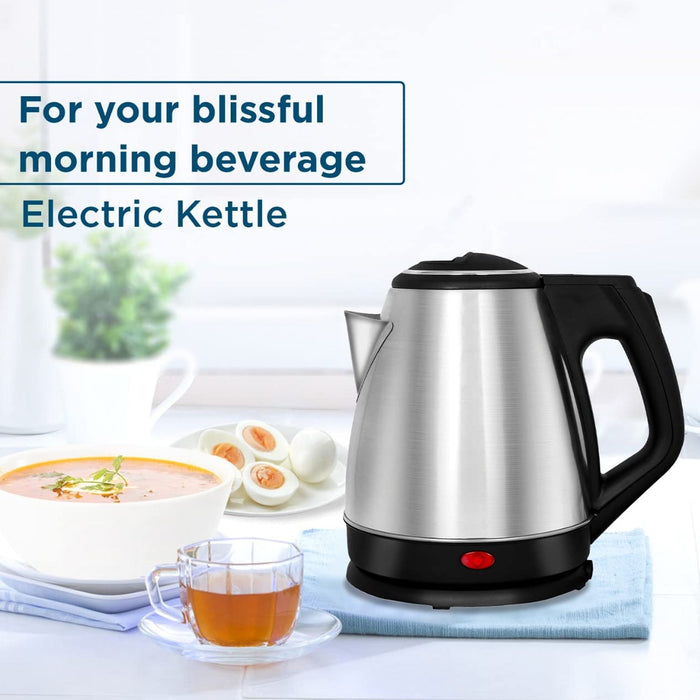 2038 Electric Kettle | Super fast Boiling | 2Litres | Water Tea Coffee Instant Noodles Soup
SKU
2038_2ltr_ele_heat_kettle
Sold out
Original price
Rs. 599.00
Original price
Rs. 599.00
-
Original price
Rs. 599.00
Original price
Rs. 599.00
2038 Electric Kettle | Super fast Boiling | 2Litres | Water Tea Coffee Instant Noodles Soup
Description :-
As it is a cordless kettle it reduces the fear of getting electric shocks from the plug points to a great extent.
Water Level Indicator helps you check the water level, so water don't overflow.
Also, it doesn't waste electricity after keeping to boil even when the water is boiled maximum.
This electric kettle provides protection from dry-boiling and overheating
You can easily prepare instant coffee, tea, soup, or other hot beverage within minutes
Pringle Cordless Electric Kettle | Superfast Boiling, 2ltr, Kitli

similar sku :- 2151

Dimensions :-
Volu. Weight (Gm) :- 1652

Product Weight (Gm) :- 690

Ship Weight (Gm) :- 1652

Length (Cm) :- 21

Breadth (Cm) :- 17

Height (Cm) :- 23