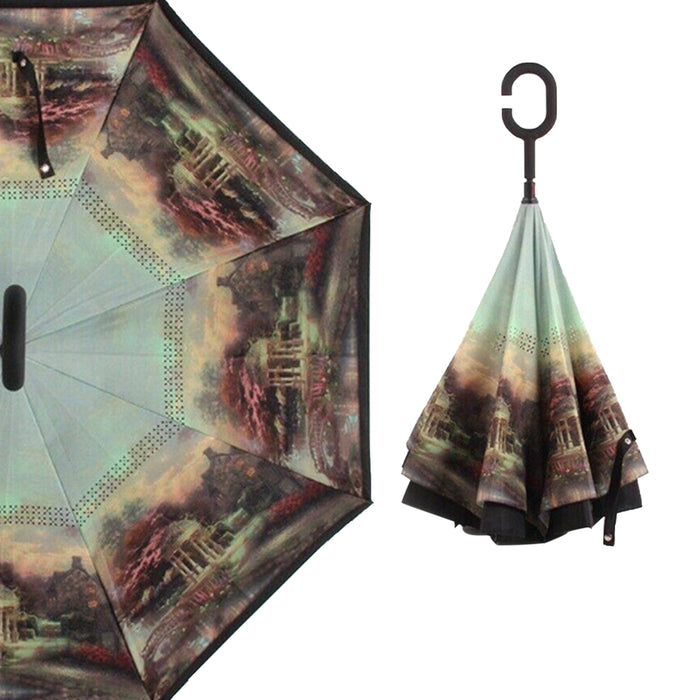 0233 Printed Travel Windproof Umbrella (Reverse Umbrella)
SKU
0233_printed_reverse_umbrella
Sold out
Original price
Rs. 801.00
Original price
Rs. 801.00
-
Original price
Rs. 801.00
Original price
Rs. 801.00
Printed Travel Umbrella Windproof Umbrella Compact Folding Reverse Umbrella
Unique Inverted Folding Umbrella
Same to the ordinary inverted umbrella, when close it, the wet part will be inside of the umbrella, preventing water from dripping. You don't even need to worry about this automatic travel umbrella will wet your floor and mat.
Metal Fashion Handle
There is a circle of shinning metal around the handle, which makes it easy to find the button to auto open and auto close the umbrella. Besides, the metal makes the handle stronger to hold. And it looks more stylish and more durable.
Best Combination for Travel
30 inch Great Coverage,provide enough cover from the rain.
0.85 LB Light Weight,keep strong enough to fight the wind.
12 inch Compact Folding Size.Easy to carry and store
Compact, Portable and Lightweight
Shorter and easy to carry. Easy to store in your car, your briefcases, backpacks, travel bags etc. Perfect for travel, business, camping, fishing, and daily use.
Package Includes: 1 x Reverse Umbrella
Characteristics

UPGRADE INVERTED FOLDING DESIGN: Shorter and Easy Carry. Convenient to store in anywhere. Suitable for travel and daily use. Reverse umbrella design: Open umbrella inside out. You can close it into the smallest gap of a car door when you get in and out of your car and remain dry. And it leaves the dry canopy on the outside and will not get your car or other people wet.Best for travelling and car use
HIGH-END UMBRELLA: Best-in-class construction, stylish and sturdy, high quality, durable travel umbrella, High end umbrella in the market. Sturdy and Windproof: Consist of high quality Fiberglass spokes, premium carbon fiber shaft and double layer pongee fabric.The waterproof effect is three times as common umbrella
SUPERIOR WINDPROOF AND WATERPROOF: This windproof umbrella is flexible enough to withstand powerful wind without turning inside out. It is fortified with 8 reinforced fiberglass ribs. The canopy is made of high density 210T waterproof material which makes it good at waterproof function. Besides it is 46 inch arc, you don't have to choose between gigantic windproof umbrellas or tiny ones that cannot provide minimal wind protection.
SUPERIOR RAIN RESISTANT: The Canopy is made by 210T Pongee fabric which makes it good waterproof performance. The Reverse travel umbrella protects you in a drenching downpour with a high quality canopy coated with waterproof technology. Water won't soak through but instead beads up and bounces off, preventing the leakage you get with other umbrellas.
CONVENIENT AND GENTLY AUTO OPEN/CLOSE BY ONE HAND: It is very convenient to open or close the umbrella only by pressing the button on the handle. Just push the button once to automatically open and press again to instantly fold the canopy closed. It will Open and close gently like a gentleman. You do not need to wait another second to open the umbrella when you get out of your car in the rain, especially in heavy rainfall, even when your hands are full of things.