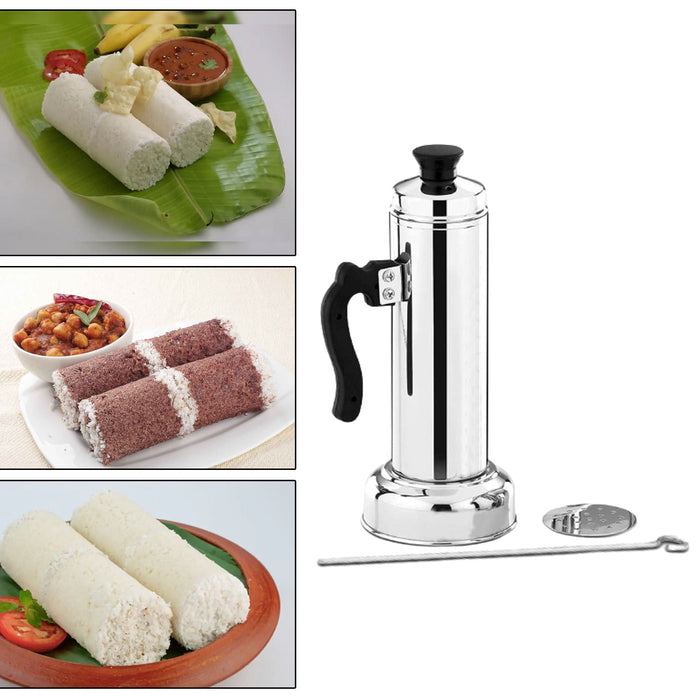 5311 Puttu Maker with Steamer Plate, Metal Stick, Black Plastic Handle, Silver Lid, Puttu Maker Set To Use with Pressure Cooker Top, Food Grade Stainless Steel
SKU
5311_steel_puttu_maker
Save

Rs. 144.00
Save

Rs. 144.00
Original price
Rs. 299.00
Original price
Rs. 299.00
-
Original price
Rs. 299.00
Original price
Rs. 299.00
5311 Puttu Maker with Steamer Plate, Metal Stick, Black Plastic Handle, Silver Lid,  Puttu Maker Set  To Use with Pressure Cooker Top, Food Grade Stainless Steel 

Description :-

This Package contains Premium Tubular Puttu Maker food grade Stainless Steel Steamer with Steamer Plate, metal stick, bakelite lid knob and Black plastic Handle to use with Pressure Cooker Top, Plain Silver- Assembly Require


Puttu (rice cake) is a traditional south Indian food made by steaming tubular rice cakes. Steam from the pressure cooker flows upwards from the vent within the upper tubular container, which has a fine mesh that allows steam to escape upwards without the contents running down.


This puttu maker is a pressure cooker attachment that should be placed on the cooker's steam vent after the whistle has been removed. The steam from the pressure cooker cooks the batter, resulting in cooked puttu.


Food Grade Premium Quality Stay Cool Handle Stainless Steel Ensuring Healthy & Hygienic Cooking Surface is non-sticky. Benifits of Puttu : Puttu is a high-carbohydrate food that quickly replenishes energy levels.



This Puttu maker is powered by Steam. It has a stainless steel tubular structure with a bottom that can be connected to the pressure cooker's nozzle, allowing the pressure to directly enter the Puttu Maker and cook the rice cake in no time.

Dimension :-

              Volu. Weight (Gm) :- 450

              Product Weight (Gm) :- 299

              Ship Weight (Gm) :- 450

              Length (Cm) :- 11

              Breadth (Cm) :- 8

              Height (Cm) :- 25