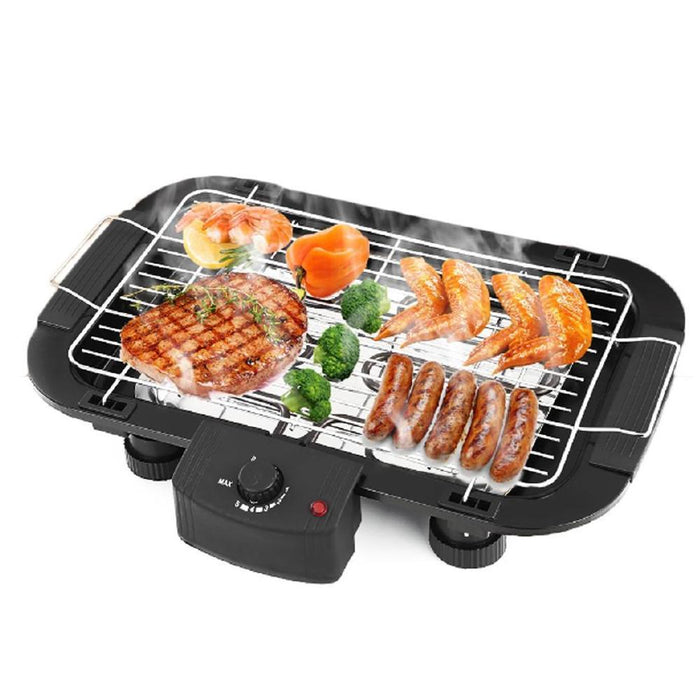 082 Smokeless Electric Indoor Barbecue Grill, 2000w
SKU
0082_electric_bbq_set
Sold out
Original price
Rs. 1,999.00
Original price
Rs. 1,999.00
-
Original price
Rs. 1,999.00
Original price
Rs. 1,999.00
DeoDap Smokeless Electric Indoor Barbecue Grill, 2000w
Delicious grilled food with virtually no smoke
The Smoke-less Indoor Barbecue Grill was made so that you can enjoy more of the great grilled food indoors in a more clean and pleasant way. This grill works by means of advanced infrared heating technology, which cooks your food perfectly while reducing the amount of smoke and oil splattering caused by burning fat.
Smoke-less technology
The advanced infrared technology, together with the special reflectors guide the heat towards the grid achieving delicious, evenly cooked food, while leaving the grease tray cool enough to minimize the unpleasant smoke and grease.
Easy to use and clean
With its simple 2-piece design, our smoke-less grill is incredibly easy to set-up and use. Just put the grill on the base and you'll be grilling in no time. And thanks to the clever interior design, it only takes a moment to wipe the non-stick surfaces clean. Minimal splattering also keeps your cooking surfaces neat and clean. 
Specifications
With power indicator light
Detachable three heights adjustable grill wire
Chrome grill
Durable stainless steel Healing element
Easy to clean electric barbecue grill
Automatic control with thermostat
Cool touch hand
Household use only
Rated power: 2000w