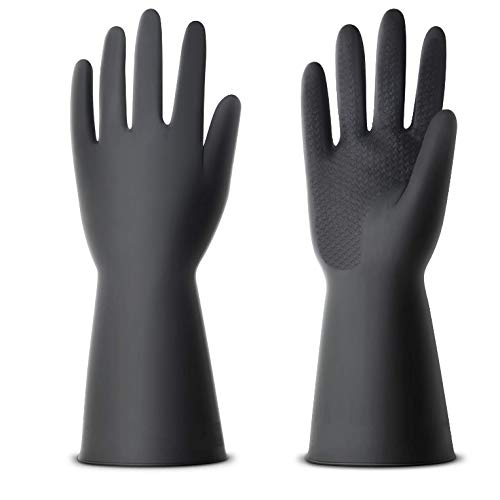 0673 Multipurpose Natural Gum Rubber Reusable Cleaning Gloves
SKU
0673_heavy_gloves_black
Sold out
Original price
Rs. 299.00
Original price
Rs. 299.00
-
Original price
Rs. 299.00
Original price
Rs. 299.00
Are you upset about doing housework that hurts your beautiful hands?
Maybe you hate getting wrinkles on your fingers whenever you do the washing;
Maybe you will get your hands dirty from all the household chores.
Give an opportunity to protect hands via our rubber cleaning gloves!
Multipurpose Non-Slip, Latex Rubber, Reusable Heavy Duty Work Gloves (Black)
Natural rubber latex gloves are manufactured with highest grade of natural rubber. Chemically toughened for increased durability and improved fat and oil resistance. Cleaning and janitorial, food processing and handling, poultry processing, meat processing, kitchen and catering, general house hold use.
Material: These latex gloves are made of natural rubber, You also get the fresh, light smell of natural rubber from them, just like nature intended. 
Strong and Durable: Our fantastic new household gloves resist tears and leaks even after prolonged use. These high-quality natural rubber gloves are able to be strong without being too thick. This design gives you superior control, meaning you can handle soapy, slippery and wet glassware and crockery with ease. Added Grip and Narrower Wrist: Wash gloves have to be able to handle not just soapy dishes but slippery detergent bottles and smooth plastic utensils. 
Extra Long: Now you can forget about wet sleeves! Our reusable gloves protect not just your hands but also your wrists and forearms from water. These long cleaning gloves are just as handy whether you are cleaning and washing the dishes or tidying up the bathroom. 
Suitable for all seasons
- Full-palm non-slip
- Ergonomic design
- Comfortable to wear without fatigue due to ergonomic and aesthetic design