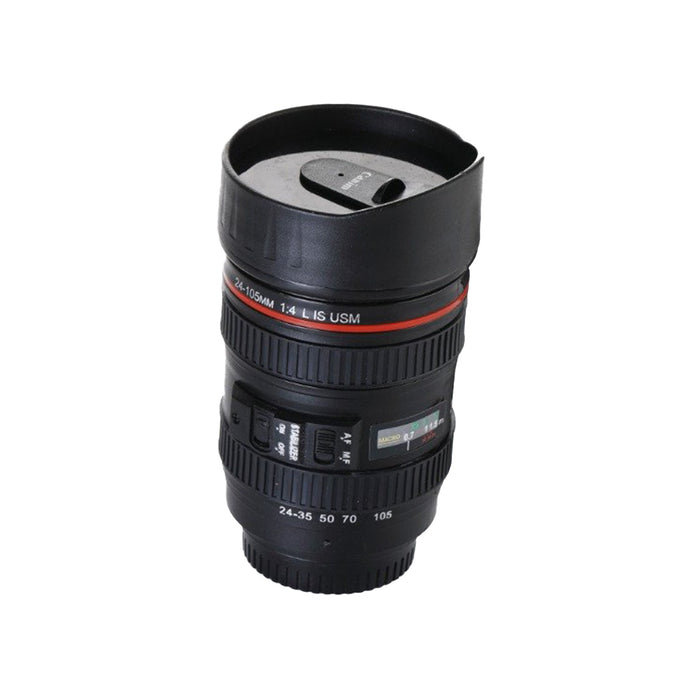 0720 Camera Lens Shaped Coffee Mug Flask With Lid
SKU
0720_camera_lens_coffee_mug
Save

Rs. 99.00
Save

Rs. 99.00
Original price
Rs. 199.00
Original price
Rs. 199.00
-
Original price
Rs. 199.00
Original price
Rs. 199.00
DeoDap Camera Lens Plastic Coffee Mug with Lid camera cup, 350ml
If you have friends or family members who are interested in photography and enjoy chugging on their beverages, the camera lens coffee mug is the perfect gifting solution for them.
Designed in the shape and form of a DSLR camera lens, this coffee mug is a stylish addition to your kitchen and dining decor.
Sporting a ribbed exterior which helps in creating a comfortable grip, the camera lens coffee mug can be used to consume hot beverages such as coffee, tea, hot chocolate or cold drinks such as juices, smoothies, milkshakes and more.
Featuring a smartly designed lid with a sipping hole, you can retain the temperature of your beverages for a long time with this mug.
The stainless steel interior helps in keeping unwanted odours away from your beverages. Its solid construction helps in easy cleaning and maintenance.
Camera Lens Shaped Coffee Mug
This brings to you this cool and stylish coffee mug to sip and enjoy your beverage in style. The coffee mug is made from plastic and stainless steel and is a suitable item for your kitchen and office use.
Camera Lens Shape Design
The coffee mug has a unique camera lens shape design which makes it quite different from any other coffee mug.
Stainless Steel Interior
The coffee mug has a stainless steel interior to keep your beverage hot or cold for a longer time. It also comes with a lid to protect your beverage from any accidental spills.
Easy to Carry
You can easily carry this coffee mug with you while on a trip or an outing. Simply put in in your luggage and you are ready to sip in style while on the move.