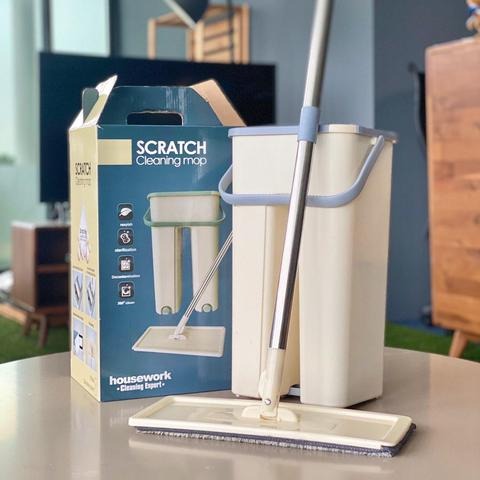 1142 Scratch Cleaning Mop with 2 in 1 Self Clean Wash Dry Hands Free Flat Mop
SKU
1142_scratch_clening_mop
Sold out
Original price
Rs. 1,299.00
Original price
Rs. 1,299.00
-
Original price
Rs. 1,299.00
Original price
Rs. 1,299.00
? Rotatable 360° Flat Mop and Bucket System for Floor Cleaning with 1 Washable Microfiber Mop Pad ? (Moq :-24)
Keep your floors shining like day one with the Openja 360 Degree Swivel Microfiber Magic Flat Mop System. Featuring the latest in cleaning technology. Save time and money with the Magic flat mop. The compact and modern design mop bucket will be easy to store in tight closet spaces and also look great while mopping! The mop bucket features an ergonomic comfortable grip handle which will make long tough jobs a lot easier around the house. The mop stick is also super comfortable with its telescopic handle makes it easy for to adjust quickly to your desired height (44-53.5 Inches). Great for wet and dry areas that needs extra care! This Mop gives you the versatility to clean just about any surface you throw at it, from kitchen and bathrooms to hardwood, tile, and marble flooring surfaces.
? For Your Ultimate Hygiene!!
Its super-absorbent mop acts as a dust magnet, making it a 2 in 1 mop. It mops as well as absorbs all the dust/ hair etc. from the floor simultaneously. It can be used both for dry sweeping as well as wet mopping & dusting.
? ADVANCED & INNOVATIVE
? Change the Way You Clean !!
Our self-cleaning mop system makes sure that the dirt from your floor is lifted away and leaves your home sparkling clean!
? Why Flat Mop ?
It gives you highest decontamination due to its super-absorbent woven micro fiber pad. Its thread are more fine than hair and thus giving the finest cleaning to your home.
? Super-Absorbent Technology
Its mop head has been made using the woven super fine threads that are highly absorbent of water and thus acts as a magnet to dust. It decontaminates your house, workplace effortlessly.