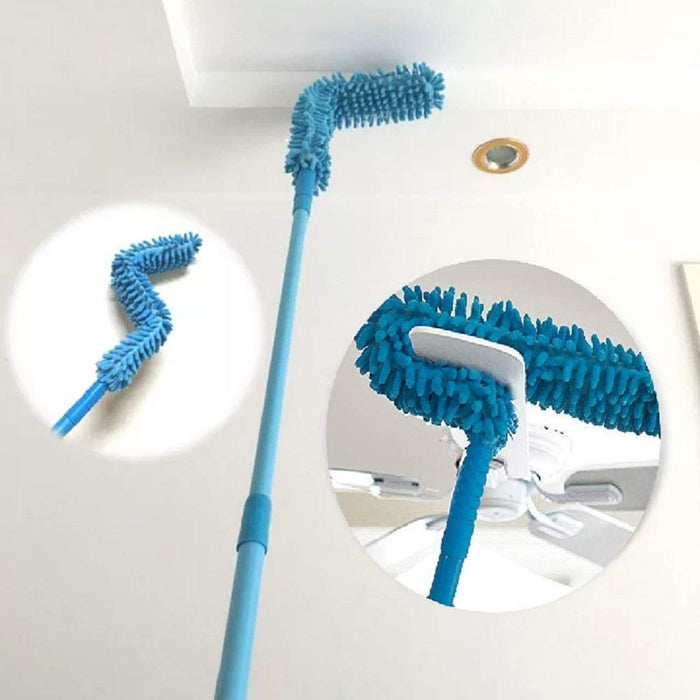 1270 Foldable Multipurpose Microfiber Fan Cleaning Duster for Quick and Easy Cleaning
Save

Rs. 292.00
Save

Rs. 292.00
Original price
Rs. 399.00
Original price
Rs. 399.00
-
Original price
Rs. 399.00
Original price
Rs. 399.00
Cleaning Tools - Flexible Microfiber Cleaning Duster Brush, Feather Magic Dust Cleaner with Extendable Rod
Flexible Bendable Head
The head can bend at multiple angles for dusting your room in an effective way; can be inserted into any corner and wipe the dust almost anywhere. Multipurpose telescopic duster/cleaner is with 360 degree flexible function and picks up dirt and dust without damaging delicate surfaces, without scratching and without the use of chemicals.
Extendable Handle
Long expandable plastic handle allows you to reach far and hard-to-reach corners. About 25 inches when have not extended, you can place on any small drawers; measures 60 inches when fully extended, appropriate length can be adjusted to facilitate cleaning.
Wide Range of Use
Suitable for cleaning up the dust in the car, computer, air conditioning, TV, sofa, table, cabinet and many other appliances and devices. Suitable for any narrow or inaccessible places such as ceiling fans, window blinds, window sills, bookshelves, walls, chandeliers, photo frames, furniture, racks etc.
Material
Car washing duster is made of microfiber material which is super-absorbent and quick drying, can easily adhere dust, dirt, hair. Washable, soft and durable, not easy to fall out, can remove the duster from the handle for easy washing. Save effort to do clean; with a non-scratchy design will let you enjoy cleaning.
Microfiber Ceiling Fan Duster
Microfiber Ceiling Fan Duster cleans all sizes of ceiling fans safely and easily. Microfiber attracts and holds dirt and dust like a magnet. Curved head allows you to clean both sides of the fan blade with one swipe. It can be used as a hand-held or attached to any telescopic pole to extend your reach without a stool or ladder.