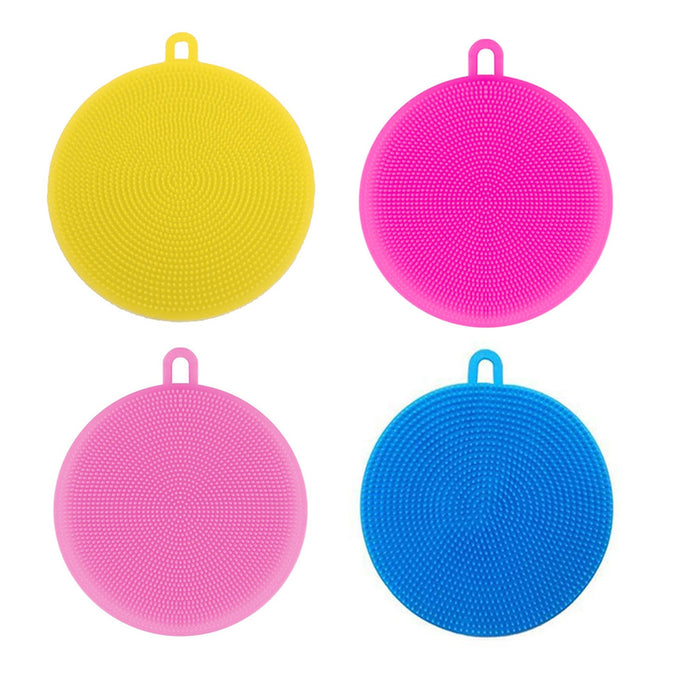 6078 Silicone Dish Scrubber Sponge Mildew Free, Non Stick (Mix Color)
SKU
6078_4pc_sili_dish_scrubber
Sold out
Original price
Rs. 199.00
Original price
Rs. 199.00
-
Original price
Rs. 199.00
Original price
Rs. 199.00
"""
Silicone Dish Scrubber Sponge Mildew Free, Non Stick, Heat Resistant
SILICONE SPONGE SCRUBBER is one of the best kitchen cleaning tool available today. Made of soft High quality food grade silicone, BPA Free and non-toxic material. This versatile scrubber is very easy to use & clean, scratch free, non-sticky, very handy, flexible and reusable. It can also be used as hot pot holder, tea coaster, make-up remover, face and body scrub and various other purposes.
Multipurpose High Quality Food Grade Silicone Scrubber used for washing dishes, fruits, veggies and can also be heat insulation mat like tea coaster for placing hot cups etc

It has thick and soft bristles, easy to reach the corners of glasses and cups, easy to clean, can be sterilised using boiling water, microwave, dishwasher. Hook hole present -can be hung on any hook. Easy drying, more convenient

Made of Antibacterial Silicone which is Natural and harmless, non-toxic, non-corrosive, Wear-Resistant, environmentally friendly and Long-lasting,
Physical Dimension
Weight (Gm) :- 50

Length (Cm) :- 10

Breadth (Cm) :- 2

Height (Cm) :- 10 
Manufacturer by
DeoDap International Private Limited
Green Land Chokdi,
Markeng Yard F-7,
Rajkot-360001, Gujarat, India
Contact : +91 9624666631
Email : info@deodap.com
"""