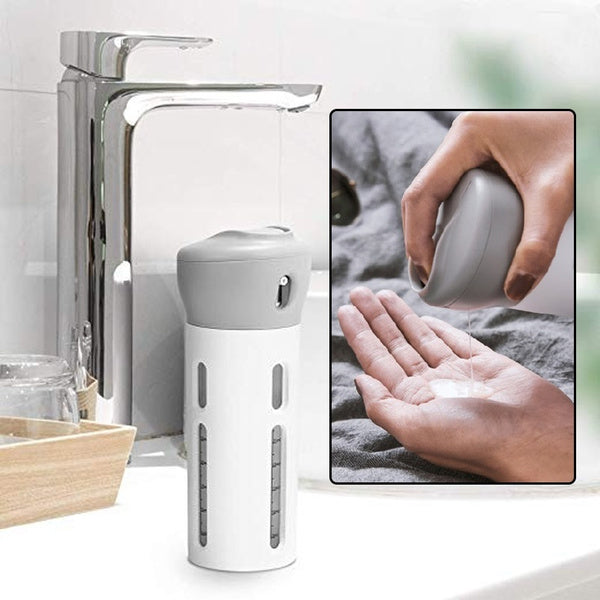 1384 4 in 1 Travel Dispenser Bottle Set Travel Refillable Cosmetic Containers Set
SKU
1384_smart_travel_bottle_set
Save

Rs. 369.00
Save

Rs. 369.00
Original price
Rs. 499.00
Original price
Rs. 499.00
-
Original price
Rs. 499.00
Original price
Rs. 499.00
Travel Plastic Leak Proof  4 in 1 Travel Dispenser Bottle Refillable Cosmetic Containers Set (Multicolor)
Features:
? Instantly access travel bottles: Streamline the way you stay fresh on your travels with the No-Spill Smart Travel Bottle! Simply rotate the top and get instant access to shampoos, conditioners, lotions, body wash, serums, hand sanitizers, and more.
? Smart outlet to space: No more rummaging through a million bottles that take up precious luggage space. The No-Spill Smart Travel Bottle is able to house up to four 40ml travel bottles and keep them in one place, preventing them from rolling around.
? Ideal: for various situations such as airplane travel/business trip/camping.
? Easy to use: Fill up the 40ml mini travel bottles with your choice of liquid. Label each and place them in your No-Spill Smart Travel Bottle, ensuring the nozzles are facing outwards. Secure the top shut by rotating clockwise. To find and use a bottle, simply rotate the top again and press to dispense. Rotate again to cover the nozzle.
? Combination Design: Combination design, easy to use, rotating selection, uniform output, suitable for different groups, can be divided into shampoo, shower gel, shower gel, detergent, hair care, shower gel, etc.
How to use the 4-in-1 Travel Bottle Set?
? Twist the top cover counterclockwise and remove the lid
? Take the dispensers out and fill them with specific lotions/cosmetic you need
? Label the dispensers put them back to the bottle with nozzle outward
? Install the lid by turning it clockwise
? Twist the bottle top to select lotions and press the button to dispense