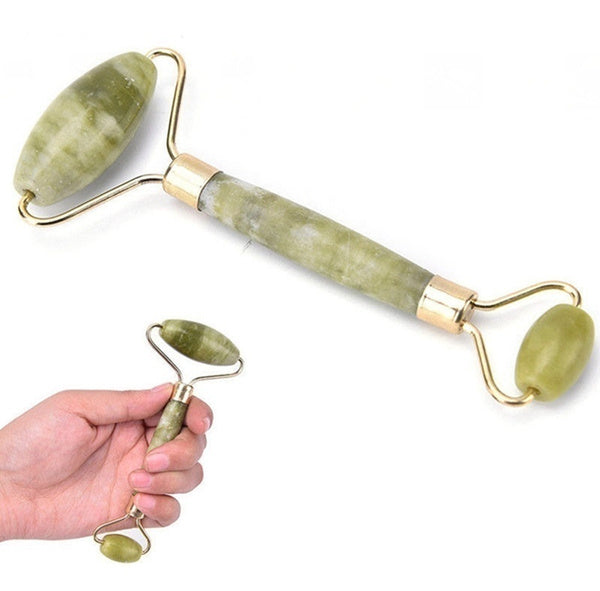 1387 Smooth Facial Roller & Massager Natural Massage Jade Stone
Sold out
Original price
Rs. 299.00
Original price
Rs. 299.00
-
Original price
Rs. 299.00
Original price
Rs. 299.00
Anti-aging, No Squeaking, Anti Wrinkle and Skin Rejuvenate Facial Roller & Massager 
Relax and beautify at the same time with the Anti-aging Facial Roller.
This double-edged pure Facial Roller device was created specifically to help reduce fine line, minimize pores, and tighten the skin to give you a bright youthful glow. It also assists the lymphatic system by helping drain lymphatic fluids and toxins.
It has smooth small and big rollers that were specifically designed to easily glide on all areas of the face, including hard to reach sensitive areas around the eyes, while providing a soothing effect.
? Facial Roller
? Helps you Improve
? Firmness
? Circulation
? Skin tone
? Under Eye Stone
? Puffy Eyes
? Dark Circles
? Inflammation
? Benefits
1. Relieves facial tension 
2. Enhances skin elasticity tightening and toning the skin 
3. Discourages the appearance of fine lines and wrinkles
4. Reduces puffiness, eye bags and dark circles around eyes
5. Helps penetrate beauty products like face creams and serums deeper into the skin for better absorption 
6. Promotes blood circulation to the face for a natural healthy glow
? How to use? 
Forehead Move from the center of the forehead beginning at the hairline, rolling towards the ear, down to the temple. Repeat 4-7 times. Focus attention on fine lines and eyebrow furrow. Eyes Use the small roller to tone the lids and under-eye area. Move from the inner corner of the eye area to the ear. Nose, Lips, Chin Use larger roller to work from the nose out to the ear.