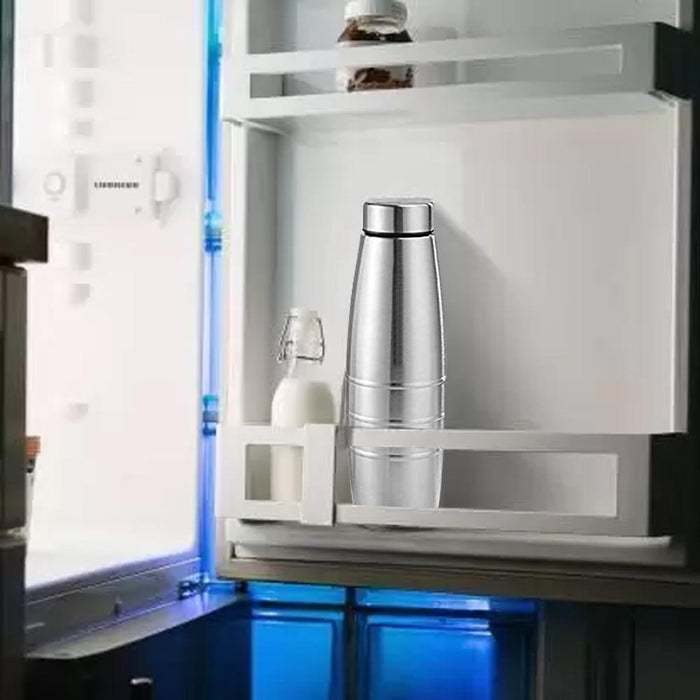 1409 Stainless Steel Water Bottle (1000 ml)
SKU
1409_ss_dallas_bottle_1000ml
Sold out
Original price
Rs. 599.00
Original price
Rs. 599.00
-
Original price
Rs. 599.00
Original price
Rs. 599.00
? Stainless Steel Cold and Hot Thermos Bottle/Flask (1000 ml, Silver) ? 
Store hot or cold beverages with ease and maintain their temperature and flavours for hours. This sturdy steel flask with a capacity of 1000 ml keeps liquids hot or cold for 24 hours.This vacuum-insulated flask features a unique flip lid that provides a spill-free pouring action. Its lid also serves as a cup that can be used to drink. This versatile flask is easy to clean and perfectly suits your needs for hot and cold beverages.
? Stainless steel construction
This bottles has been constructed with a stainless steel body which is lauded for its durability. The material is also free from heavy metals, making the bottles a safe choice for storing drinking water for a long period of time , Thermo Steel , ss bottle 
? Substantial capacity
Each bottle has a capacity of 1000ml which allows you to stay hydrated as you stay out for long hours. It comes in use while carrying the bottles to work, school or on a picnic.
? Leak-proof cap
Do not worry about water spilling inside your bag again! Stainless steel water bottles come with secure thread caps which keep the bottles leak-proof. The wide mouth design allows you to clean them efficiently to maintain hygiene.
? Compact and portable
The compact structure of these 1000ml-capacity bottles makes them ideal for carrying with you on any day-trip or hike. They are small enough to be carried by hand or slipped into the side compartments of your backpack for easy portability and access