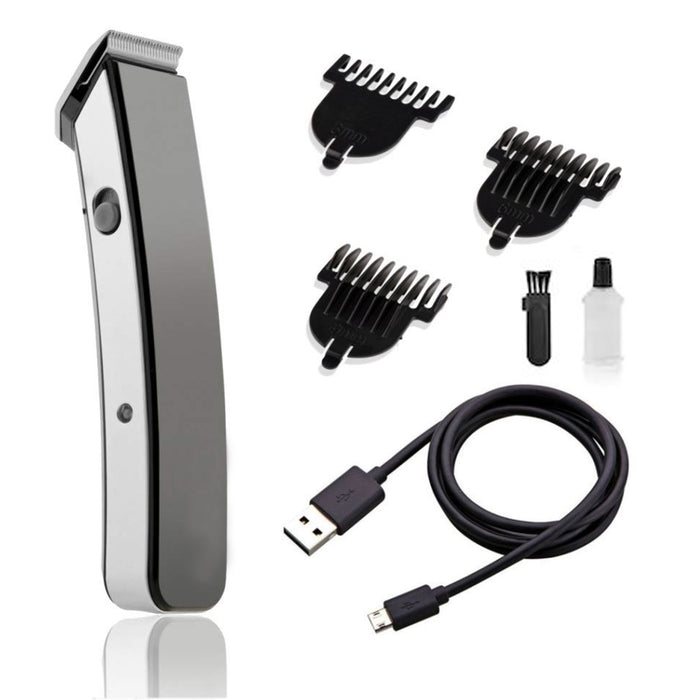 1414 Rechargeable, Cordless Beard and Hair Trimmer For Men
Sold out
Original price
Rs. 499.00
Original price
Rs. 499.00
-
Original price
Rs. 499.00
Original price
Rs. 499.00
? Rechargeable Cordless Beard and Hair Trimmer For Men, 45 Mins Runtime ? 
KB-1045
Cordless Trimmer helps you enjoy a hassle-free grooming experience at the comfort of your home. Easy-to-use, this trimmer ensures comfort and convenience, thanks to its ergonomic design. It not only trims down your facial hair but also your Head Hai & underarm hair and helps you be party-ready always. An essential grooming kit, this trimmer is not just a device used for trimming and comes with a number of other attachments which will ensure that you look groomed.
? 45 Mins of Cordless Use
This trimmer comes with advanced technology which optimizes the power consumption to ensure that your trimmer last 45 mins of cordless use.
? Skin-Care
Stainless steel avoids blade irritations and accidental cuts. For extra comfort and protection, it has rounded tips and non-scratching combs.
? Easy to Clean
Fully Detachable head which is easier to rinse under the tap after every trim. Dry it before you put it back on the appliance.
? Flexible Hold and Trim
The trimmer is designed in such a way that it lifts the hair and cuts it faster and flexibly trims your face, hair and body areas, giving you neat results compared to an ordinary trimmer.
Features
? Can be used with cord (while charging) or cordless.
? Professional detachable blade.
? Simple, easy for a variety of styles.
? Can be used for any ages.
? Supports security cutting head and special cleaning to shave and shape the beard without causing cuts or irritating the skin.
? Adapted compact design for low-noise during operation for baby to sleep while haircut.
? Light-weight and Easy to carry.