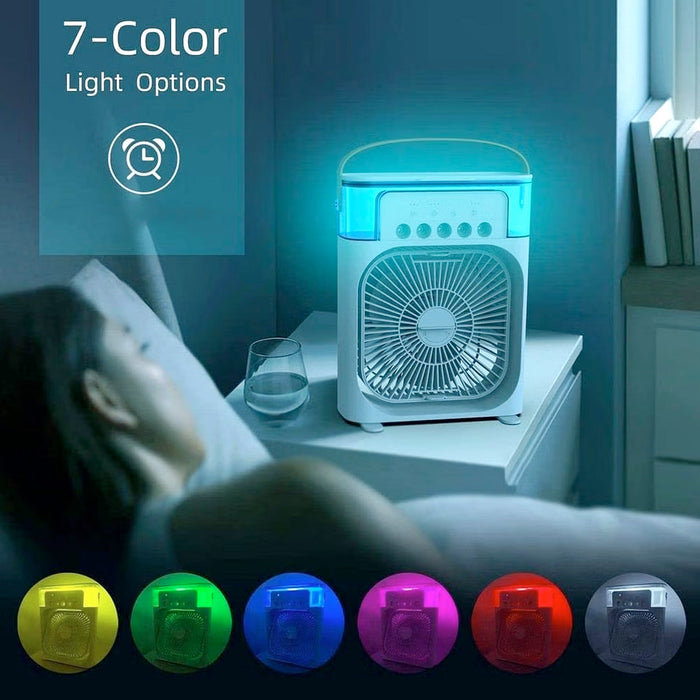 4769 Portable Air Conditioner Fan Personal Air Cooler Desk Cooling Fan (Battery Not Include)
SKU
4769_mini_cooling_fan_10w
Sold out
Original price
Rs. 2,500.00
Original price
Rs. 2,500.00
-
Original price
Rs. 2,500.00
Original price
Rs. 2,500.00
4769 Portable Air Conditioner Fan Personal Air Cooler Desk Cooling Fan (Battery Not Include)


Adjustable Wind Speed And  Wind Direction Up And Down 60 degree

This Air Cooler Fan Power Supply, Just Connect The Usb Cable To Support The Usb Port Equal To Or Greater Than 2A Device; The Water Tank Cover Can Be Completely Removed, Which Is Convenient For Cleaning The Water Tank And Placing Ice. It Is Very Suitable For Home, Office, Outdoor Picnic, Travel, Etc.

This Indoor Air Conditioner Is Designed To Create Your Personal Temperature Environment And Effectively Cool The Hot Air Around You. Its Best To Add Some Ice Or Water To The Tank For A Cooler Feel. Whether You Work Or Sleep. This Fan Is Your Best Portable Cooling Fan This Summer!

This Portable Air Cooler Has Low Energy Consumption And Is Much Cheaper Than This Air Conditioner, So You Should Not Expect The Same Effect As Air Conditioner. It Is Recommended That You Place It Within 3 To 4 Feet Of You For Personal Care.

No Need To Add Water Frequently, Add Cold Water Or Ice To The Water Tank To Provide Cool Air, As A Personal Air Conditioner, Away From Dry, All Day Long Humidifier.

Includes:1 Piece Type-C Cable (1.5M)2 Pieces Perfume Cotton Piece1 Piece Instruction Manual.
Dimension :

Volu. Weight (Gm) :- 1792

Product Weight (Gm) :- 849

Ship Weight (Gm) :- 1792

Length (Cm) :- 27

Breadth (Cm) :- 22

Height (Cm) :- 15