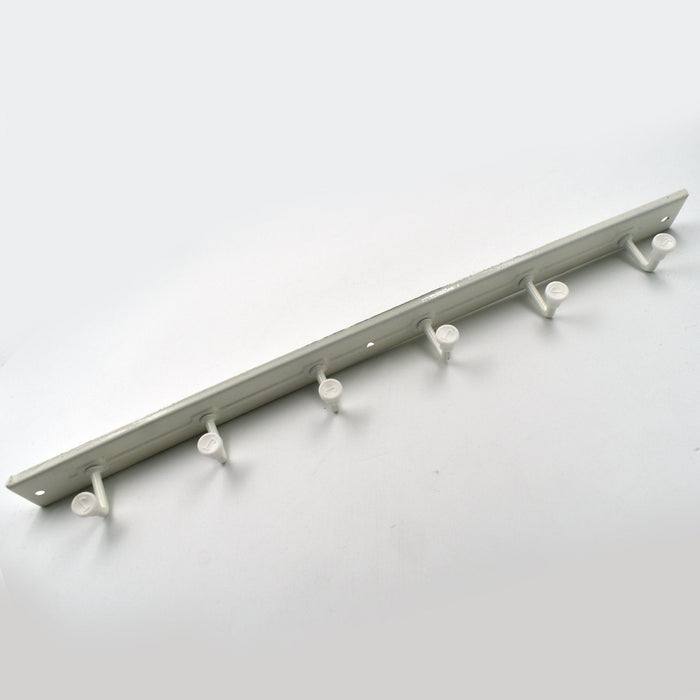 1757 Wall Hook Hanger Steel
SKU
1757_ss_6pin_cloth_hanger
Sold out
Original price
Rs. 199.00
Original price
Rs. 199.00
-
Original price
Rs. 199.00
Original price
Rs. 199.00
6 Pin Stainless Steel Cloth hanger, Wall Door Hooks Rail for Hanging Clothes (White)
Home Decorative Quality Hooks are of Futuristic design Sheer quality that never goes unnoticed World class products Offers solutions rust Free Material Stunning finish Quarter tune advantage 6 hooks wall stand solution made to fit anywhere 
6 Hooks
The sturdy wall-mounted coat rack provides a horizontal row of four hooks for durable, reliable storage space. Each hook measures 2-1/4 inches deep and can hold up to 4 pounds for a maximum weight limit of up to 20 pounds total for the rack.
Functional Storage Solution
Use the four-hook coat rack in an entryway, foyer, or front hallway to keep jackets, bags, and backpacks up off the floor. The stylish hooks also work well in a bathroom, offering additional hanging space for bathrobes and beach towels, or in a bedroom to help maintain a tidy appearance and to prevent piles of clothes from accumulating.
Perfect for household use
Install the hook plate in your home and use it with absolute confidence. The versatile design and the stainless steel build of the hook plate mean that you can use it in a wide number of places – starting from the bathroom, the shower to even your bedroom.
Smooth rounded tops
With the rounded edges and the rounded top of the hooks, you will never have to worry about your clothes getting torn by the hooks. Such design features ensure that whatever clothes you hang on the hooks do not get snagged and come off easily. 
Features
- Constructed of durable heavy duty metal hooks mounted to a high quality high density solid wood board.
- Perfect solution for organizing coats, jackets, hats, baseball caps, scarfs, and dog leashes in your entranceway, bedroom or closet. The versatile wall-mounted hangers makes a great choice for small spaces or high-traffic areas around the home or office.
- Features separate coat hooks with double looped design.Helps you to save space and keep your home organized; Stylish hook will add some classic minimalist flair to compliment your room.
- Mounted Coat Rack installs quickly and easily.