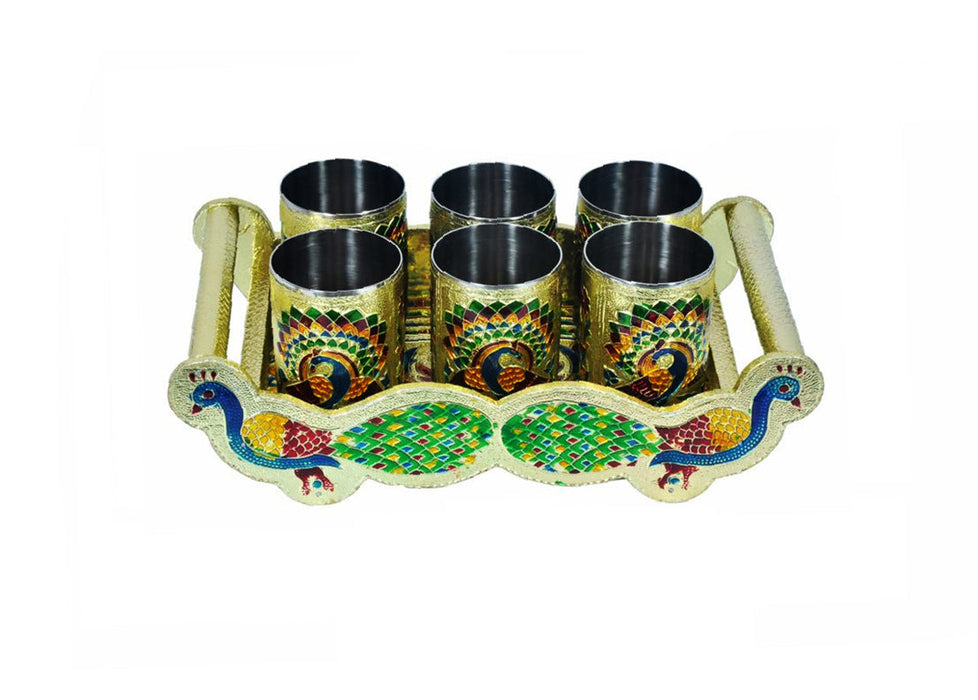 2125 Peacock Design Glass with Handle and Handicraft Serving Tray Set
SKU
2125_6pc_glass_serving_tray
Sold out
Original price
Rs. 999.00
Original price
Rs. 999.00
-
Original price
Rs. 999.00
Original price
Rs. 999.00
Meenakari Rajwadi Traditional Water Drinking Glass and Tray (6pcs Glass)
Handicrafts Rajwadi type glass tray for serving cold drinks, water, juice, Jaljira, Sharbat etc. It's give you rich impression in your homes. it's like a heritage product looking and it's great looking it self. Inner material is Wooden ply for trey and Glass material is Stainless Steel so its gonna strongest strength of both glasses and tray also. on the both of it German Oxodise Worked with hand to hand work and it gives a dashing look for these and compact design with great look it self.
Royal Peacock Designed Serving Tray With Matching 6-Glass Set Stainless Silver Minakari.
Royal & Long Lasting Gift For All Occasion Tray.
Specifications 
Ideal For
Designer Serving Tray - Glass Set.
Decorative Tray-Glass Set.
Fancy Stainless Steel Tray-Glass Set.
Traditional Wedding Tray-Matching Glass Set.
Decorative Platter.
Included :- 6 x Glass Set & 1 x Handle Tray.
Design :- Minakari Peacock.
Tray Size :- 12 x 7 x 3.5 Inch. 
Glass Size :-  3.5 x 2.5 x 2.5 Inches.