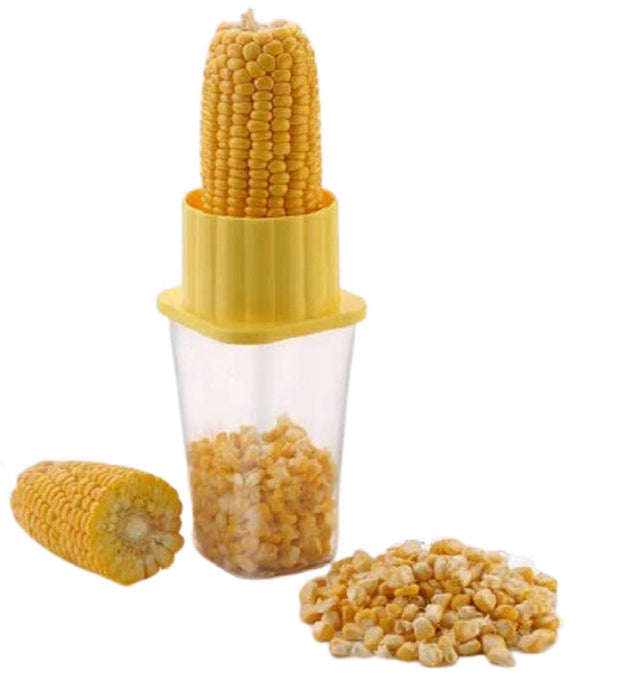 2320 Multi Use Plastic Corn Stripper Cob Remover Bowl
SKU
2320_bowl_corn_cutter
Save

Rs. 145.00
Save

Rs. 145.00
Original price
Rs. 199.00
Original price
Rs. 199.00
-
Original price
Rs. 199.00
Original price
Rs. 199.00
Unbreakable Plastic Plastic Corn Cutter, kernels Remover Peeler Corn Stripper with Container
The corn stripper is designed to remove the kernels from the cob with great ease. Makes quick work of removing kernels from the cob
? Safe
Mo risk of cuts from a sharp knife Works well with different size of corns, suitable for almost every corn Easily remove kernels from fresh, frozen or cooked corn in one quick motion Durable stainless steel blades, hard, resistant to abrasion and corrosion,do not deform. Carefully made to last long, easy cut the kernels for removing, hands and use it anywhere, no need for electricity or other tools. kernels from the corn with just a push The kernels stripped from the corn are collected by the plastic container t can also prevent corn juice splatters from going everywhere during the use. Very convenient and useful.
? Easy to clean and dishwasher safe.
Easy to use and clean - You can easily remove the cob from this kitchen corn stripper by twisting and pushing the corn cob in one quick motion. It is also straightforward to clean
? Made of safe and Quality Design
Multi-purpose - Kernel remover for the corns does more than just cutting the grains only. It can also cream the grains very nicely. The corn stripper has the perfect design to be in your kitchen more appropriately
? Durable stainless steel blade for years of easy cutting
The kitchen set corn stripper has a blade which is made of high-quality stainless steel. This great corn stripper makes your work more comfortable in the kitchen
? Cutter Stripping Kernels Remover with Stainless Steel Blades and Hand Protector
? It can be used to strip fresh corn, cooked corn, or dried corn.
? In addition to corn, it can also be used to grind other fruits and vegetables.
? The bottom of the vessel has a scale for easier use.
? Stainless steel blades can cut vegetables and fruits quickly.
? It has a stacked design that is easy to store and does not take up too much space.
? The bottom has a non-slip silicone ring for your convenience.