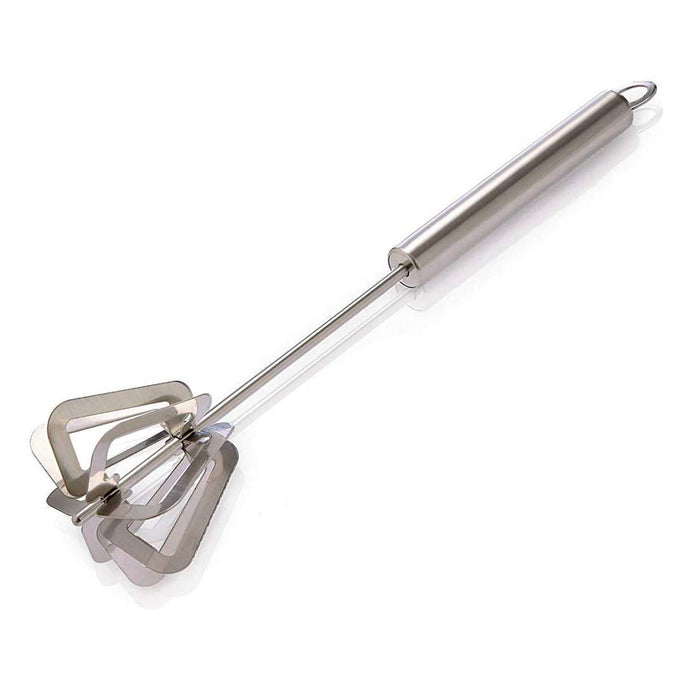 2335 Stainless Steel Manual Mixi, Hand Blender
Save

Rs. 112.00
Save

Rs. 112.00
Original price
Rs. 149.00
Original price
Rs. 149.00
-
Original price
Rs. 149.00
Original price
Rs. 149.00
? Stainless Steel Mixi Egg, Lassi, Butter Milk Maker, Mixer Hand Blender ? 
? Handheld Whisking Gadget:
This Spring Whisk makes it easy to whisk eggs, cream, milk, and other liquids. All you have to do is press down, and the whisk will start spinning on its own, giving your mixes a smooth and creamy result. This design eliminates unnecessary hand movements and speeds up the whisking process so you can get to cooking.
? Fast Mixing and Blending
Effortless spin whisk. Just pressing and whisking.
Mechanical assembly allows easy fluid motion in one push with minimal force and effort. Prevents arm and hand strains.
Say goodbye to manually rotate your arm, whisk will spins as you press down and counter spins as it springs back up.
A great tool for mixing coffee and cocktail.
? High Quality Stainless Steel Material
Our wire spring whisk is made with premium stainless steel, durable, never worry about bending or breaking for regular use.
Stainless steel is resistant to rust and has nonstick properties.
? Easy to Use and Clean
Semi-automatic design, The hand egg blender only needs to press down vertically, and it can stir quickly. Whisks stainless steel can use dishwasher safe or use warm water and soap, rinse and pat dry.
? Wide Application
Our egg beater is not only used to beat eggs, but also used for whisking, whipping, and frothing for coffee drinks, or more like milkshakes, whipped cream, salad dressings, gravies, sauces, mayonnaise, meringues, etc.