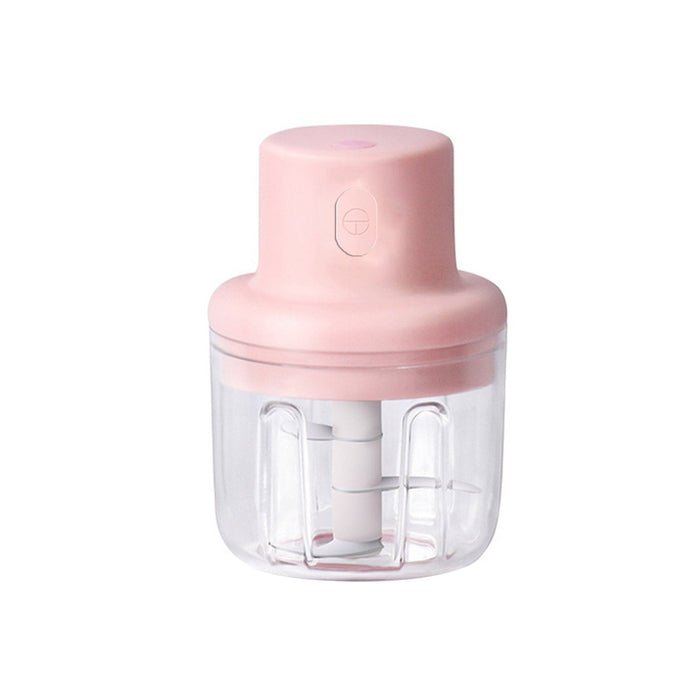 2374 Electric Mini Garlic Chopper (250ml)
SKU
2374_usb_garlic_chopper
Save

Rs. 410.00
Save

Rs. 410.00
Original price
Rs. 599.00
Original price
Rs. 599.00
-
Original price
Rs. 599.00
Original price
Rs. 599.00
?? Kitchen Portable USB Rechargeable Electric Fruit Vegetable Onion Garlic Cutter/Chopper/Slicer/Food Processor 
Garlic Chopper has the ability to mince garlic and effectively add it to all of your favorite dishes. This definitely speeds up your prep time.
It's a quality electric mini garlic chopper, one touch button to switch the mini chopper on or off, USB charging, easy to clean, compact volume, portable, space-saving, perfect for small jobs
?? Why Choose our electric mini food chopper?
Mini electric food processor, Meet the small amount of side dishes demand without waste
Chopping made simply with one-button operation
Chopped the food so quickly, speeds up your prep time
Removable parts, easy to clean up
Wireless design is so convenient for carrying, use it while camping, barbecuing or anywhere you need you can take it to anywhere you want.

?? Great Cooking Helper
The electric mini garlic chopper is more convenient than general garlic press, you just put seasoning & spice in the food chopper, lock the cover and start with one click to quickly crusher Ingredients. Veggie chopper is perfect for small jobs, like garlic, ginger, peppers, onions,carrot, pumpkin, vegetables, fruit, boneless meats and more.(Note: Please cut the ingredients into small pieces before chopping them), chargeable chopper
?? Place the blade and item
Place the blades in the cup, and fill the ingredient. You can refer to the max line and do not overload.the lid in the right way, rotated to a safe lock position to start use
?? Press Power
Press the power switch, and hold it for a few seconds, you will get the chopped foods, If the items is not so delicate as you expected, you can continue grinding
?? Get a Great Shred Food
Open the chopper and remove the blades, you will get an evenly shred food.(The blade is very sharp, please don't touch by fingers)
?? Cleaning the Chopper
You can directly rinse the garlic grinder with water after use, which is easy cleaning with no residue.
?? Instruction
? Put the blades into the center of the bowl carefully
? Cut the ingrediens into small pieces and put them into the bowl, don't put more or less, hlaf is appreciated
? cpver it before chopping
? Hold down the lid with one hand, and pull the rope with another.
? Take out Blades Carefully first, and than chopped infredlents