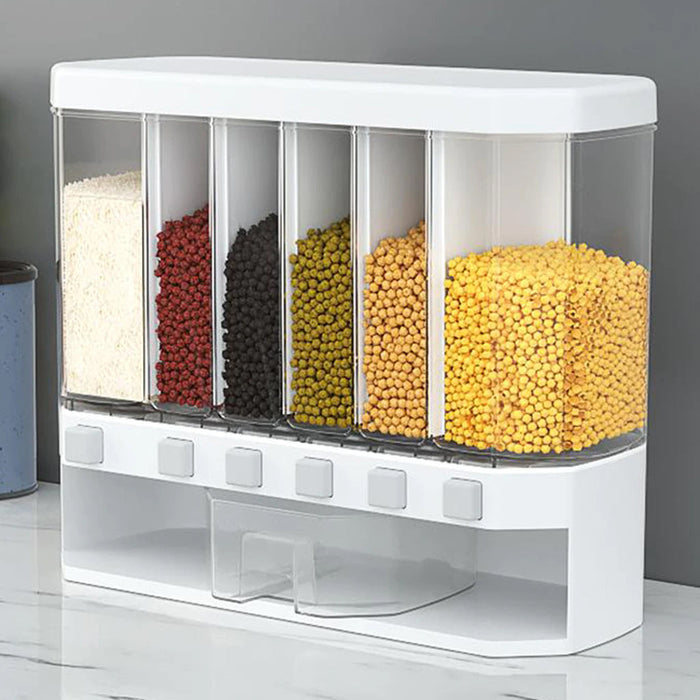 2382 Wall-Mounted Cereals Dispenser Press Grain Storage Tank
SKU
2382_wall_mounted_storage
Sold out
Original price
Rs. 1,999.00
Original price
Rs. 1,999.00
-
Original price
Rs. 1,999.00
Original price
Rs. 1,999.00
?? Kitchen Storage 6-Grid Wall Mounted Cornflakes/Cereal/Pulses/Beans/Oatmeal/Candy/Namkeen/Dry Food Storage Box/Tank (Multicolor)
Make your kitchen clean and tidy with Wall-mounted Dry Food Dispenser! Easy stick-on installation with its super strong holding power, use it on wall or the refrigerator door will save you a lot of space! You can get what you need instantly with its transparent body. Just press to get them out with no mess! Wall-mounted Dry Food Dispenser Transparent body, food in the box can be seen, and large capacity, Can store about 1 kg rice. Can hold all kinds of food, like grains, rice and so on. Make your kitchen clean and tidy with countertop Cereal / Grain Dispenser, you can get what you need instantly with its transparent body
?? characteristic
? Suitable for Various Types of Food: Dry Food Dispenser is suitable for all kinds of dry food, such as cereals, candies, oatmeal, nuts, beans, rice, coffee, etc. To meet family needs.
? Sealed Storage: The top cover has good air tightness, which helps prevent the food from stale and maintain its freshness. Distribution on demand can maintain food hygiene.
? Easy to Operate: The transparent body can meet your needs immediately, just place the bowl under the dispenser and press the button.
? Exercising Children: This is an ideal choice for parents whose parents promote their children's independence or who live in healthy or weight sensitive groups.
? High-quality Material: The durable plastic container is made of high-quality food-grade plastic, which can be used for a long time and is safe for you and your family. The top cover can be removed but it is more convenient to add. The top cover can be removed for easy adding of grain.
?? Features
? Sealed design, keep freshness, good moisture-proof effect, easy to store.
? Whole grains can be stored in a centralized manner. Not only rice but also other grains can be stored. The size of mung bean is suitable for storing grains.
? The movable partitions can be freely combined and divided, and the barrel is equipped with 5 partitions, which can be divided according to needs.
? Classified storage, a bucket of centralized storage, neat and tidy, saving space to save the mess.
? The partition can be assembled and disassembled according to the size of the stored items, making home storage more convenient.
?? Specifications
? Material: plastic
? Pattern: 6-cell grain rice
? bucket Size: about 40*15*32cm/15.75*5.9*12.5inch
? Suitable: store a lot of grains, flour, mung beans, rice, oatmeal, coffee, etc.