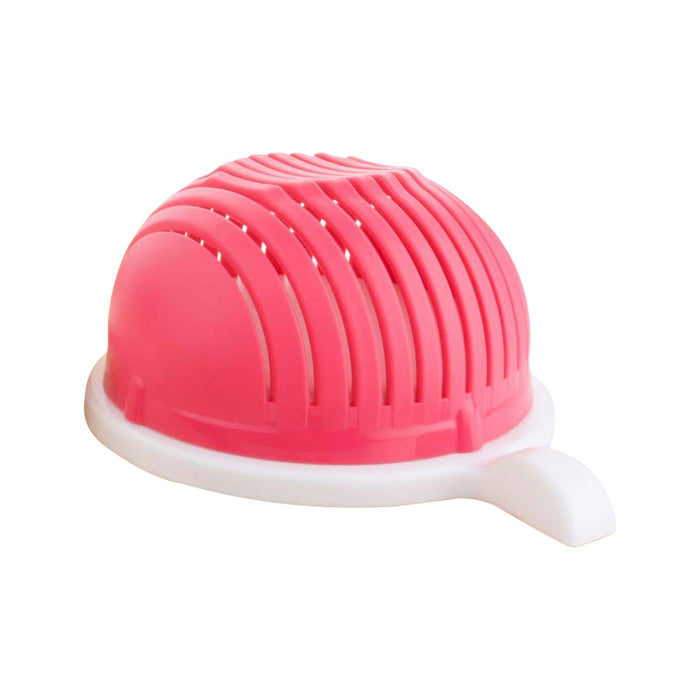 2476 Multipurpose Salad Cutter Bowl Easy to 60 Seconds Salad Maker Kitchen Tools
SKU
2476_loose_salad_chopper
Save

Rs. 62.00
Save

Rs. 62.00
Original price
Rs. 99.00
-
Original price
Rs. 99.00
?? Plastic Multifunction Salad Cutter Bowl, Fruits and Vegetables Chopper Cutter Bowl ?? 
?? Make Fresh Salad Easily
Makes Unique Dishes in a Snap
Creates salad feast from lettuce, cabbage, broccoli, cucumbers and other vegetables and fruits, perfect for making low-carb meal.
?? Accommodates a Variety of Veggies & Fruits
Upgraded bowl design accommodates a variety of veggies & fruits, fits for 2 people at least.
?? Easy Clean-up
Comes apart for easy cleaning and is dishwasher safe.
?? Convenient & Efficient Salad Making Steps
? Step 1
Put the ingredients into the bowl and wash (fulfill 3/4 of the bowl).
? Step 2
Close the top bowl with the base to make sure they fix well. Cut the ingredients into pieces.
? Step 3
Rotate the top bowl 90 degrees and fix again with the base, cut again to make the ingredients much smaller.
? Step 4
Finish and Enjoy your delicious and healthy salad!
?? Features & Tips
? Upgraded Design: It can be hang to dry, juice can be stored in the sink, easily rotate the bowl by holding the wings on both sides.
? Item Size: 7.5*4.7*7.8 inches, enough for 2 people serving.
? Please rotate the bowl only, do not rotate together with the food.
? Hard ingredients are not recommended. Make sure the ingredients fit 3/4 of the bowl.
? Knife should not be short than 7 inches.