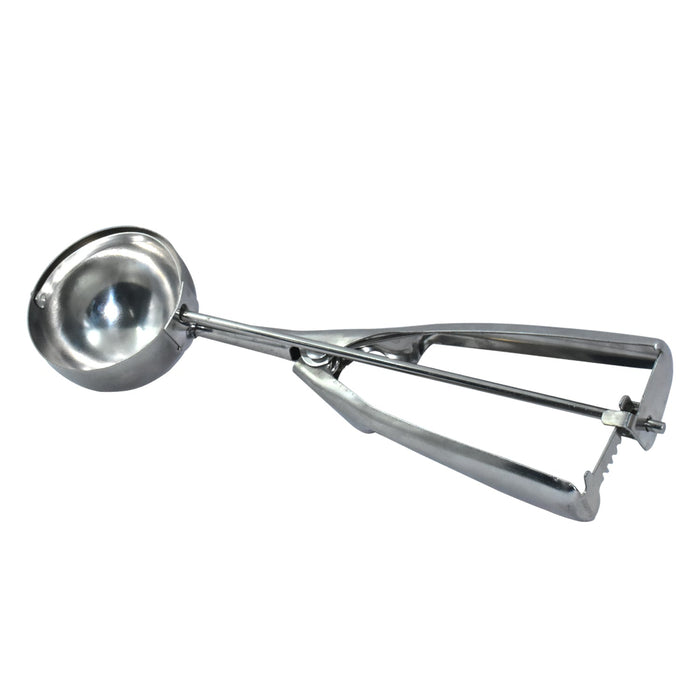 2523 Ice Cream Serving Spoon Scooper (Stainless Steel)
SKU
2523_cn_ss_icecream_scoop
Save

Rs. 228.00
Save

Rs. 228.00
Original price
Rs. 299.00
Original price
Rs. 299.00
-
Original price
Rs. 299.00
Original price
Rs. 299.00
 Easy Handheld Multi Use Stainless Steel Ice Cream Scoop
Made of high-quality stainless steel. This scoop comes with a spring to scoop and remove the ice cream easily. The deep bowl of the scoop penetrates into the ice cream to pull out a rounded section, whereas the strong construction keeps the scoop from bending. This ice cream scoop has a trigger handle, which uses a small piece of metal to force the ice cream out of the scoop and into the serving bowl. It is a very useful and essential tool for bar and kitchen that can scoop up ice cubes from an ice bucket or ice maker.
This will not only help scoop out ice cream from the container but also present your scoop very neatly making your dessert all the more tempting.
 Cute yet Handy Tool for Scooping up Ice Cream
Make this attractive ice cream scoop a part of your kitchen accessories if you are a lover of ice-cream. This is an easy solution to cutting ice-cream into pieces, which can often be a messy affair. It is extremely convenient to use and to clean.
 Multipurpose Icecream Scopper
Ideal For Scooping Ice-cream, Scoop and Drop Cookie Dough, Use To Make schocolateballs, To Make Fruit/Melon Balls And Also Great For Dishing Up Pet Food.
 Easy Release Trigger
Easily release the contents of your cookie scoop with one easy fluid motion. Don't worry about having to struggle to get ice cream out of the tub, in no time at all, this scoop will fast become your most favourite kitchen gadget.
 Made out of Durable Material
This metal scoop is made out of food grade stainless steel. This means that you can be sure that it will not bend or rust, even if you use it on a regular basis
 Easy to Clean
Clean this ice cream scooper easily, after each use. You can even put it into the dishwasher if you have one
  Specifications
 Content : Ice Cream Scoop
 Material : Stainless Steel
 Color : Silver