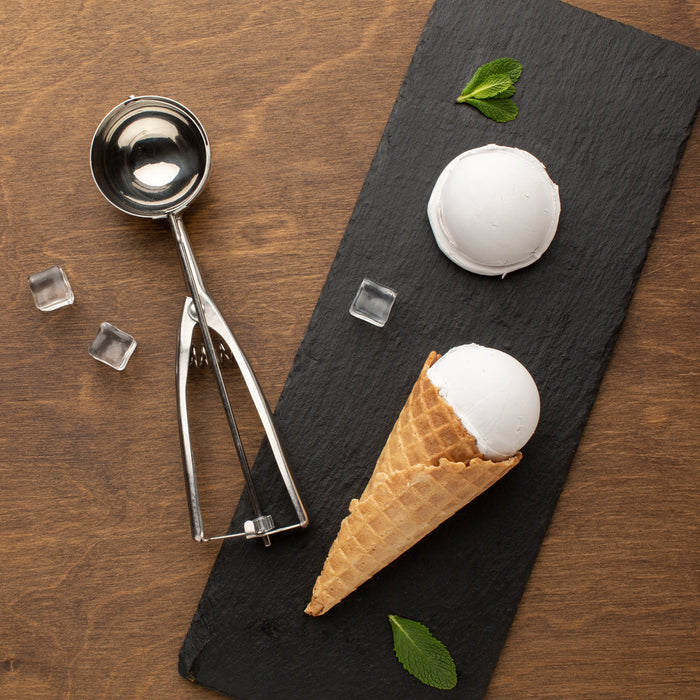 2523B Ice Cream Serving Scoop | Stainless Steel Premium Quality Ice Cream Serving Spoon Scooper with Trigger Release
SKU
2523b_steel_icecream_scoop
Sold out
Original price
Rs. 299.00
Original price
Rs. 299.00
-
Original price
Rs. 299.00
Original price
Rs. 299.00
2523B Ice Cream Serving Scoop | Stainless Steel Premium Quality Ice Cream Serving Spoon Scooper with Trigger Release 
Description :-

ice Cream Scoop Spoon, perfect for serving ice creams and ease and convenience. Specially designed to roll and serve the ice cream in round shape.


Spring mechanism helps in simple and fast squeezing. Easy maintenance and dish washer safe.


It has multiple uses. Apart from beautiful balls of ice cream, you may use it for melon, meat, fruit, and many more healthy meals. Ideal for batter dispenser.


The scoop is made from 304-grade stainless steel, and won't rust or corrode. 100% food grade quality steel.



The handle Incorporates An Ergonomic Design, Fits Comfortably In Left Or Right Hand.

Dimension :-

               Volu. Weight (Gm) :- 204

               Product Weight (Gm) :- 106

               Ship Weight (Gm) :- 204

               Length (Cm) :- 27

               Breadth (Cm) :- 9

              Height (Cm) :- 4