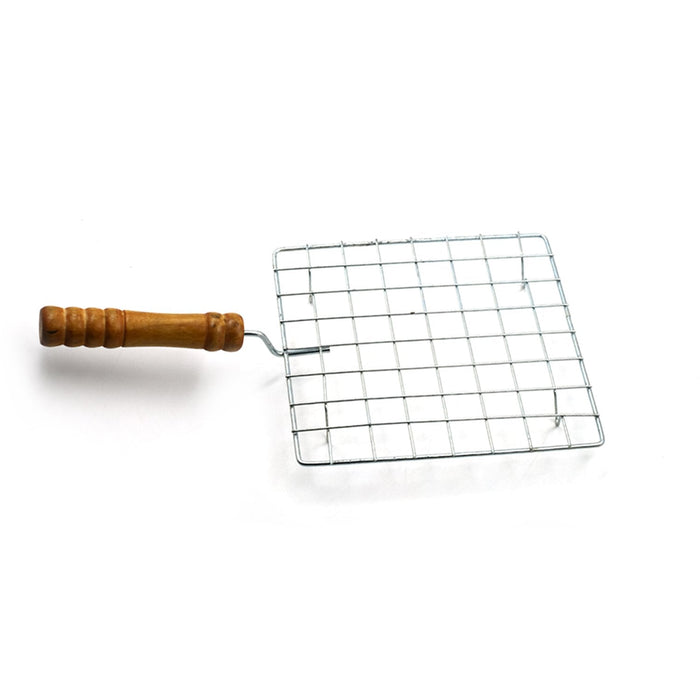 2617 Square Stainless Steel Barbecue Grill with Wooden Handle
SKU
2617_b_ss_squ_bbq_wh_jali
Sold out
Original price
Rs. 199.00
Original price
Rs. 199.00
-
Original price
Rs. 199.00
Original price
Rs. 199.00
?? Outdoor Cooking Stainless Steel Square Shaped Roaster Tandoor Paneer Roti Roaster Net Jali Papad Jali Barbecue Grill with Wooden Handle ?? 
This BBQ Grill Grates combines two grates for more grill area for ribs, steaks, kebabs and more mouthwatering barbeque meals. The grill grates folds for space-saving storage and easy carry.
Chromium Plated Wire mesh with non-stick Teflon coating ensures rust-free and long life of this BBQ Grill Grates.
?? Exclusive design
Foldable Basket Roast & Wooden Holder. Extended heat-resistant wood handle provides comfortable grip, which will keep you safe from the heat generated by grill.
?? Creative lockable grate
Lockable grill grate locks foods in place and would not loosen when locked enable easy flipping of grilled foods like burger hamburger vegetable fish sea food chicken meat and any other fry items for camping outdoors picnic kitchen hotel family party etc
?? Double grid
The grid gaps are perfectly sized to provide even heat distribution while preventing small pieces of foods from falling through grill grate, Tandoor Jaali
?? Features
?Easy and Safe to Use.
?Put the Foods between the Nets, Close and Food are ready to Grill.
?Spring Closes the Mesh Nets and Prevents Food from Falling Off. Long Wooden Handle Keeps Hands Away from the Hot Grill.
?Easy to Clean and Store.
?Non Stick Teflon Coating for Turning, Flipping and Quick Release of Foods Without Sticking.
?The foldable and lockable design enables you to lock the foods in place and flipping it a breeze.
?It's ideal for cooking fish, vegetable or other delicate foods that may be falling apart on the grill when flipping.
?Features an adjustable elongated heat-resistant removable handle to provide comfortable grip and to keep your hand from the heat source.