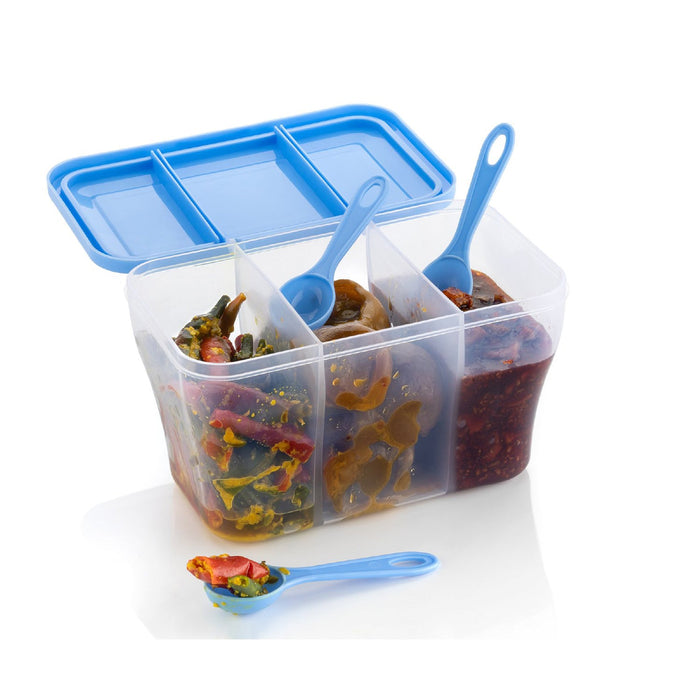 2625 Plastic Square Storage Organiser Container (750ML Capacity)
SKU
2625_3sec_container_750ml
Sold out
Original price
Rs. 199.00
Original price
Rs. 199.00
-
Original price
Rs. 199.00
Original price
Rs. 199.00
Kitchen Multipurpose Air-tight 3 Sections Storage Containers / Pickle (Achar) Jar - 750 ml with 3-spoon for each section
Store a variety of food items like cereals, pulses, spices, dry fruits, snacks, salt, sugar, coffee, tea and much more in these canisters. These containers have easy-to-use and see-through lids which makes them practical for everyday use and helps in identifying food items without having to open them.
First time we are comes with totally different design and high quality abs plastic material than other pickle containers in this cheap rate. Multipurpose transparent food grade plastic jar unit with 3 section. Sleek and stylish.
The spice rack will make your life easier by helping you organize all your masalas and spices and getting a snug place for all of them. Specially designed revolving base facilitates easy access. The holder has 3 separate compartments/sections to hold 3 items.
Clear Vision With Wide Mouth
Its bigger mouth made it more useful when it comes to store spices, powders, grains, cashews in it. You can easily pour anything in and out. Rack and pinion lid mae it air tight.
Crystal clear view to identify the stuff easily. Putting and taking out ingredients is easy if the jars have a wide opening mouth and Signoraware Pickle Jars offer you that.
Airtight Caps
These jars have airtight caps. Therefore, Pickle Jars are totally safe to use. Ensuring comfortable grip, the jars are a must for every kitchen. The ingredients won't leak or fall.
Versatile Use
Pickle Jars are multipurpose. They have a multi-use as they can be used for storing pickles, dry fruits or other ingredients too.
Easy to Clean
As these jars have a wide mouth, cleaning them is really easy. These jars are dishwasher safe too. Cleaning and washing the spoon and the tray is also really easy.