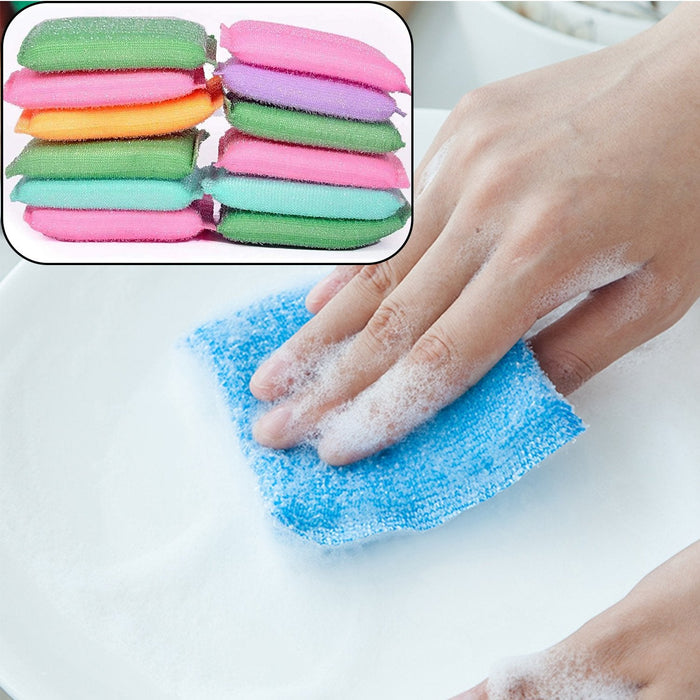 2626 Scratch Proof Kitchen Utensil Scrubber Pad (Pack of 12)
SKU
2626_12pc_scrubber_pad
Save

Rs. 146.00
Save

Rs. 146.00
Original price
Rs. 199.00
Original price
Rs. 199.00
-
Original price
Rs. 199.00
Original price
Rs. 199.00
? Cleaning Multi-use Scrubber Sponges for Kitchen, Dishes, Bathroom, Car Wash - 12 pieces ? 
These kitchen scrubbers are widely used to clean kitchen utensils, household accessories, tiles, wash basins and various other allied accessories. Features: Offer high efficiency. Wear and tear resistant. Long lasting. Premium quality foams and sponge. Water absorbent Durable quality Unmatched quality.
? Removes dirt effectively
The main purpose of a sponge is to clean dirt and remove debris from your dishes. This sponge can clean caked on food from dishes, pans, and utensils. But it can also be used to scrub stovetops, barbeque grills, kitchen tiles, etc. It can also be used for car washing, bathroom utilities scrubbing, cleaning refrigerators and to remove soap. Our sponge will make your daily cleaning tasks a whole lot easier and you will not have to worry about dirt staying on the place
? No Scratch
Although our sponge provides a powerful scrub, it does not leave a scratch on the surface. The material of the scrub is soft and made so that it could be used on any surface. For sensitive surfaces, you do not have to buy a separate sponge. This one will do just fine, without destroying the surface even a speck. Being made of soft material, however, does not mean it cannot handle tough surfaces. It can clean them both alike without an issue.
? Easy cleaning and drying
The sponge itself is easily cleanable and then dries up in a matter of minutes. To clean the sponge, just pour whatever cleaning detergent you are using and rub it onto itself. After rubbing it thoroughly, just go through with the water and let it air dry. It will be good as new.