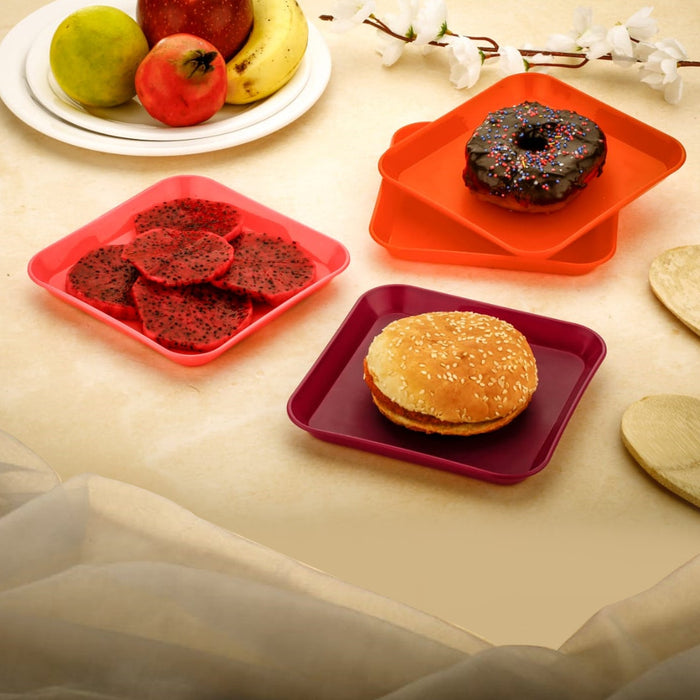 2706 Square Plastic Dinner Plate Set (Set of 6 Pcs) Colorful Snacks / Breakfast Plate
SKU
2706_bb_breakfast_plate_6pcs
Sold out
Original price
Rs. 149.00
Original price
Rs. 149.00
-
Original price
Rs. 149.00
Original price
Rs. 149.00
2706 Square Plastic Dinner Plate Set (Set of 6 Pcs) Colorful Snacks / Breakfast Plate
Description :-
COLORFUL DINNER/BREAKFAST PLATES: These Plastic Plates are great for those quick meals or outdoor lunches/picnics. It's perfect size plates for serving breakfast, snacks, nuts, fruits, candies etc. for guests or daily use. Add a touch to your decor with these colorful plates, dinner set
PACKAGE CONTENTS: set of 6 Colorful breakfast plates. Unbreakable Virgin Plastic Plastic Microwave Safe Dinner Plates
MATERIAL: Made from PP plastic, 100 % Food grade material. Dishwasher safe, microwave safe and stackable, fully tempered up to 3 times stronger, recyclable, easy to clean.
MODERN DESIGN: These colourful serving plates are designed for easy usage with a modern colorful touch. The edges of the plates are smooth and rounded corners. With the base provided it becomes easy to store these plates in less space.
HEAT RESISTANT: Microwave and dishwasher safe plastic plates, Microwave-safe and unbreakable, Can be used for cooking/heating food in the microwave.
Dimensions :-
Volu. Weight (Gm) :- 317

Product Weight (Gm) :- 290

Ship Weight (Gm) :- 317

Length (Cm) :- 16

Breadth (Cm) :- 6

Height (Cm) :- 16