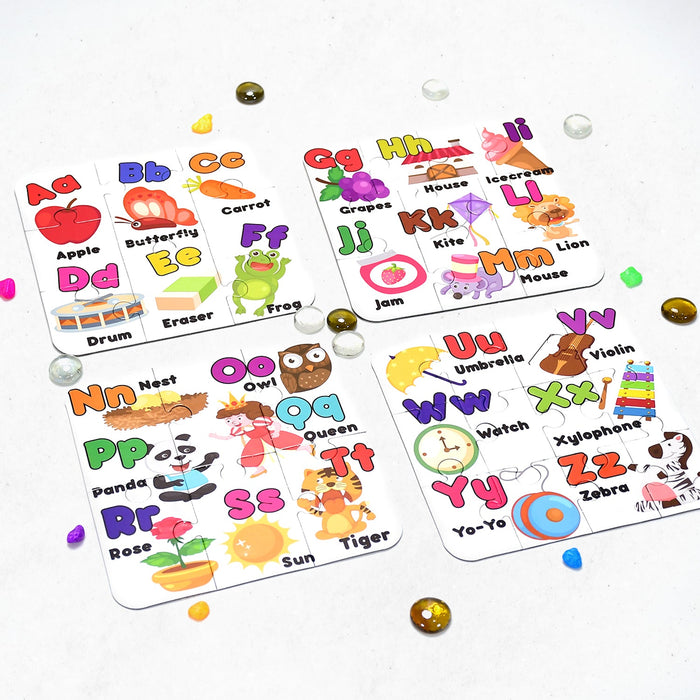 4052 Learning Abcd JigaSaw Toy Puzzle For Children (4 Puzzles Pack)
SKU
4052_abcd_jigsaw_puzzle_toy
Save

Rs. 61.00
Save

Rs. 61.00
Original price
Rs. 149.00
Original price
Rs. 149.00
-
Original price
Rs. 149.00
Original price
Rs. 149.00
4052 Learning Abcd JigaSaw Toy Puzzle For Children (4 Puzzles Pack)
Description :- 
This self correcting puzzle is a fantastic introduction to the alphabet for preschool. The front and back sides of each brightly colored letter are printed with images beginning with the letter. This means that the child not only learns to identify and recognize the letters, they also get the new word.
Working out which piece goes where is a wonderful way to develop problem-solving skills. Using trial and Error, children will work out new techniques for solving the puzzle. 
Meanwhile, building puzzles is a great way to improve a child's ability to focus on a task to completion.

It will definitely be a wonderful gift choice on Birthdays, holidays, Christmas, Children's Day, etc.

Dimension :- 
Volu. Weight (Gm) :- 334

Product Weight (Gm) :- 316

Ship Weight (Gm) :- 334

Length (Cm) :- 18

Breadth (Cm) :- 18

Height (Cm) :- 5