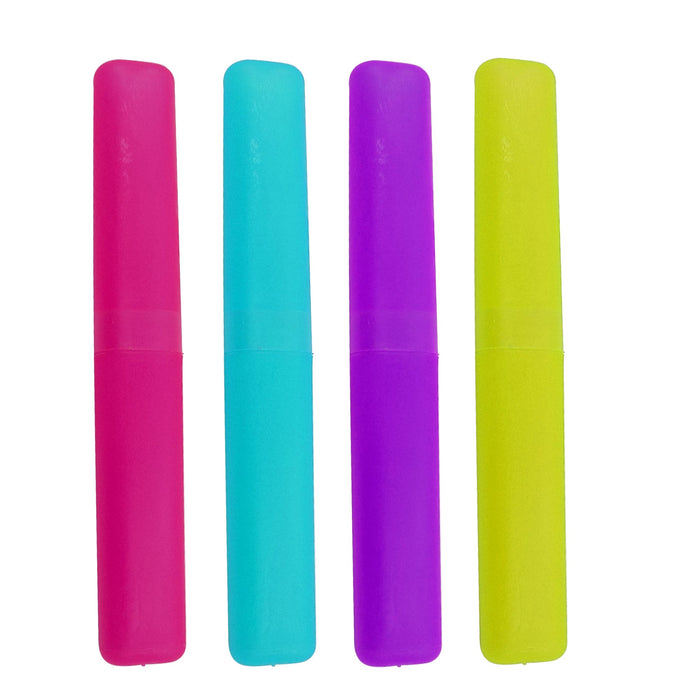 4678 Portable Dust-Proof Toothbrush Cases Toothbrushes Holder (Pack of 4)
SKU
4678_4pc_toothbrush_case
Sold out
Original price
Rs. 99.00
-
Original price
Rs. 99.00
?? Portable Travel Hiking Camping Anti-Bacterial Toothbrush Cover
?? Eco-Friendly: This toothbrush holder is made of plastic material, it's eco-friendly, light and durable, dust-proof, moisture proof and anti-corrosion. It will protect the toothbrush from deformation as well as from rotting in moisture.
?? Secure Design : Two-section design keeps your toothbrushes clean. Round corner design will not scratch other items in your bag. It will provide a safe space to the object you desire to keep in it. With an impressive length of 20 cm, width of 3.1 cm and Height - 2.1 cm that works great for its convenient size.
?? Travel Convenient: The toothbrush container has a small hole in order to keep your toothbrush dry and clean. Hence, it will prove great for travel, business and home use!
?? Consumes Little Space:: These toothbrush have a proper case to keep it clean & healthy Despite of taking care of your toothbrush's hygiene, this toothbrush holder just takes small space in your luggage! :)
?? Supreme Quality: The quality it is made out of will leave room for lots of bliss but none for disappointment! This eco-friendly product is exactly what you need to have a hygienic toothbrush holder set that will have your mornings start fresh and beautiful!
?? Specification
? Material:PP
? Color:random
? Size:20.5*3*2cm
? Gross weight: 25g
?? Characteristics
? Lightweight and portable
? Convenient and reusable
? Durable and practical
? Using PP material
? Safe and prevent
? Surface matte design
?? Package Included: 1 x Toothbrush Case