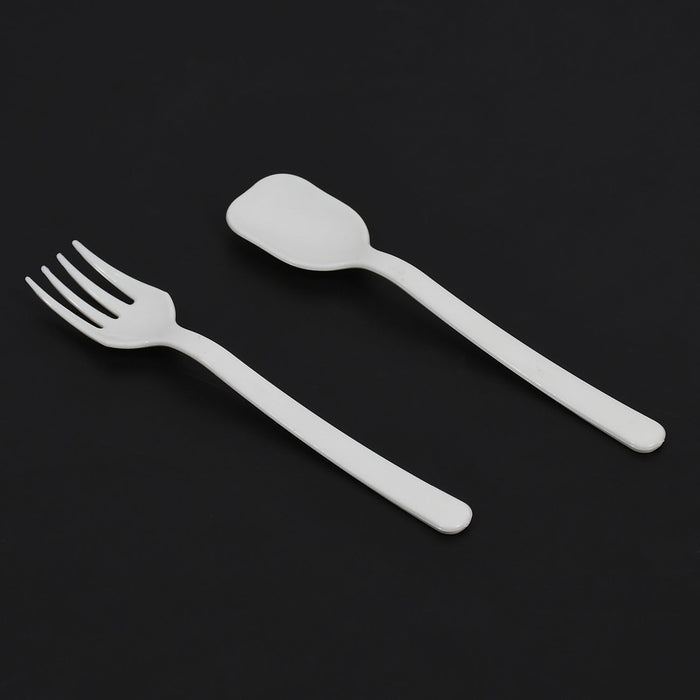 5239 Plastic Forks & spoon Cutlery-Utensils, Parties, Dinners, Catering Services, Family Gatherings ( pack of 2)
SKU
5239_spoon_n_fork_2pc
Save

Rs. 14.00
Save

Rs. 14.00
Original price
Rs. 19.00
-
Original price
Rs. 19.00
5239 Plastic Forks & spoon Cutlery-Utensils, Parties, Dinners, Catering Services, Family Gatherings ( pack of 2)
FOR PERSONAL & PROFESSIONAL USE- For personal use: Breakfast-Lunch-Dinner meals on a daily basis, Parties, Family Gatherings, Picnics, BBQs. For professional use: Break rooms, catering businesses in hotels, hospice care and more!

EXTRA HEAVY WEIGHT CONSTRUCTION- Heavy duty, disposable, plastic forks. The heavyweight plastic construction is made of food-grade plastic that is very sturdy, and ideal for solid foods like steaks, salads, fish, corn and more.

CLASSIC DESIGN- Comparable to regular cutlery in size design, print, color, elegance, with large and comfortable handle. Made with food-grade hard plastic- the strongest out there- that is BPA-Free

CONVENIENT & ELEGANT BOX- Beautiful and convenient box made of durable cardboard material, easy packaging and overall use. Have it open and take the cutlery you need, or close it and conveniently store/stack it.
Dimension :-

Volu. Weight (Gm) :- 64

Product Weight (Gm) :- 10

Ship Weight (Gm) :- 64

Length (Cm) :- 17

Breadth (Cm) :- 4

Height (Cm) :- 4