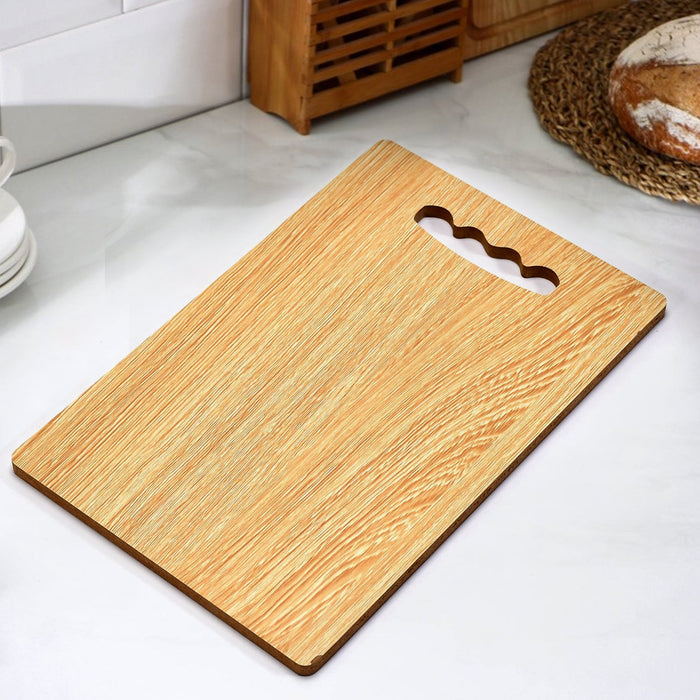 7124 Wooden Chopping Board 26x17 Chopping Vegetable & fruits For Home & Kitchen Use
SKU
7124_wood_chopping_board_26x17
Sold out
Original price
Rs. 299.00
Original price
Rs. 299.00
-
Original price
Rs. 299.00
Original price
Rs. 299.00
7124 Wooden Chopping Board 26x17 Chopping Vegetable & fruits For Home & Kitchen Use 

Description :- 
Providing space for heavy duty vegetable chopping, slicing fruits, and cutting meat. wood resists knife scaring and warping. Care: soak cutting board in mineral oil before use.


 Wooden chopping board for kitchen has smooth surface for easy handling and finger hole allows you to hang for storage. Hygienic to use: 100% natural wood, natural color


100% natural, quality wood chopping board which is completely bio-degradable


Quick-drying and Easy-cleaning: The bamboo cutting board for Mom is less water absorption, quick-drying, and has a non-stick cutting surface. It will make cleaning this cutting board much easier than others.



You can use the solid side with a groove for cooking, or the engraved one as a decorative item/elegant serving plate. A beautiful piece of home decor and an usable cooking tool all in one.

Dimension :-

         Volu. Weight (Gm) :- 98

        Product Weight (Gm) :- 225

        Ship Weight (Gm) :- 225

        Length (Cm) :- 17

       Breadth (Cm) :- 26

       Height (Cm) :- 1