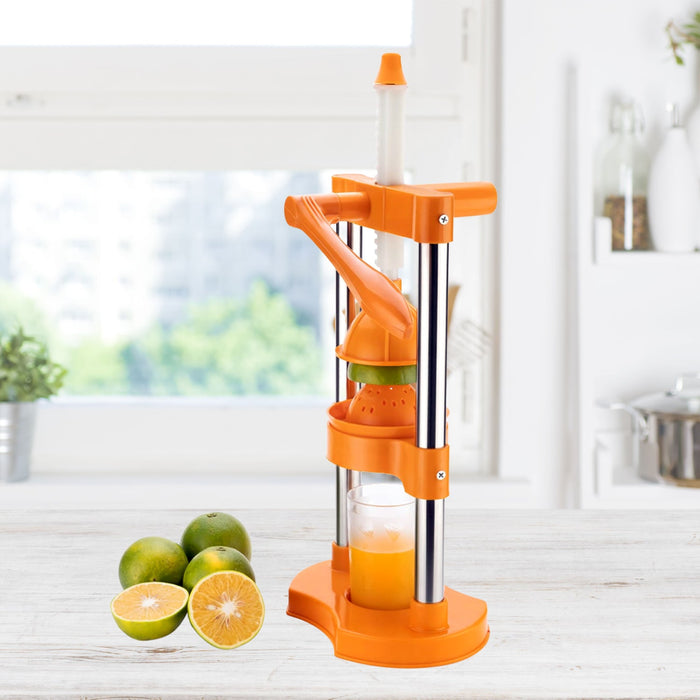 7128 Hand Pressure Juicer With Glass Manual Cold Press Juice Machine Instant Make Juice Squeezer, Fruits Juicer, Juice Maker, Orange Juice Extractor For Fruits & Vegetables, Orange
SKU
7128_manual_pressure_juicer
Sold out
Original price
Rs. 599.00
Original price
Rs. 599.00
-
Original price
Rs. 599.00
Original price
Rs. 599.00
7128 Hand Pressure Juicer With Glass Manual Cold Press Juice Machine  Instant Make Juice Squeezer, Fruits Juicer, Juice Maker, Orange Juice Extractor For Fruits & Vegetables, Orange

Description :-
We are introducing to you a SUPER EASY and INSTANT Hand press Juicer. This Hand pressure extracts the juice in a minute. you do no need to peel the fruit. you don't need to waste your time peeling the fruit.


This Hand press juicer is made of high-quality durable food-grade plastic material. It doesn't break while squeezing and Both sides' strong steel pipes give super support. The ergonomic & Non Slip handle save your energy while pressing the fruits.


You will get more juice in less time than compare to the regular juicer. It extracts the much juice as possible. It works quickly and easily. You can operate it manually with an easy hand-press mechanism. You don't need to over-squeezing.


You have to cut the fruit into two parts and place it in the juicer. Press Down the handle. you will get fresh and tasty juice. you can take to anywhere. All Parts of the Hand Juicer are removable so you can easy to wash.



Enjoy fresh-squeezed fruit juice every morning with this heavy-duty manual press juicer. It is used to make juice of fruits like Lemon, Mosambi, Orange, Kinu and Pomegranate.

Dimension :-

                      Volu. Weight (Gm) :- 3772

                      Product Weight (Gm) :- 1165

                      Ship Weight (Gm) :- 3772

                      Length (Cm) :- 22

                      Breadth (Cm) :- 19

                      Height (Cm) :- 45