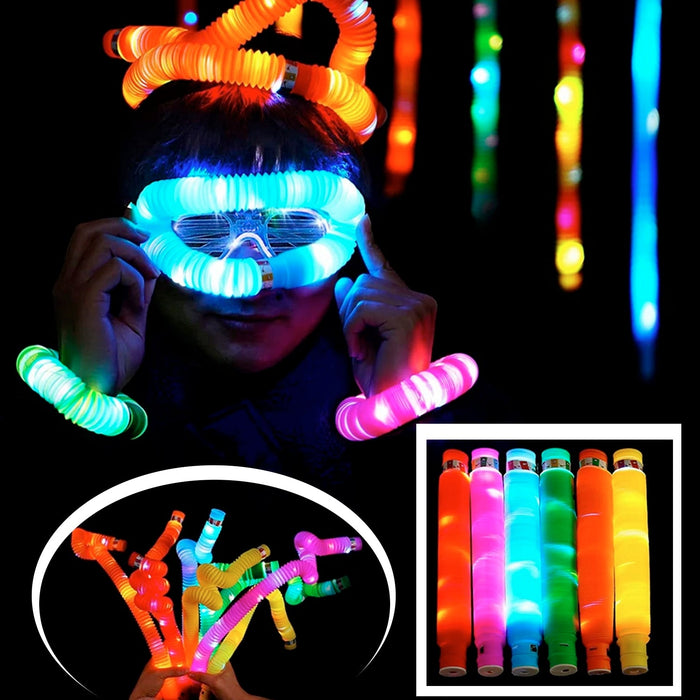 8055 Mini Pop Tubes, Colourful Tubes Sensory Toys Stretch Pipe Toy Fidget Tube Toys Pull Tubes Fidget Toys Sensory Stretch Tubes Fun Tubes for Autism Children Kids Adult Reduce Anxiety (pack of 12)
SKU
8055_light_pop_pipes_12pc
Sold out
Original price
Rs. 799.00
Original price
Rs. 799.00
-
Original price
Rs. 799.00
Original price
Rs. 799.00
8055 Mini Pop Tubes, Colourful Tubes Sensory Toys Stretch Pipe Toy Fidget Tube Toys Pull Tubes Fidget Toys Sensory Stretch Tubes Fun Tubes for Autism Children Kids Adult Reduce Anxiety (pack of 12)
Material: Pop tubes fidget toy with comfortable texture is made of high-quality PP plastic, lightweight and portable, great for outside and indoor activities, can be used for a long time.

Package: You will get 12pcs tube toys in 6 different color. Each tube diameter is about 2cm/0.78inch, the length is about 14cm /5.5inch when retracted and can be stretched to about 45cm/17.7 inch long.

Feature: Sensory stretch tubes can be stretched and twisted to any shape with an exciting pop sound and can be easily restored to a prototype, the pop toys are addictive to play.

Function: Fidget tube toys can help develop kids' imagination and creativity, learn color sorting, building, connecting and physical science, strenthen hands-on ability, relieve stress.

Wide Use: Fun tubes are great for kids as christmas gifts, new year gifts, birthday party gifts, and are a perfect sensory toys by providing tactile stimulation to develop motor skills for autistic children.
Dimension :-

Volu. Weight (Gm) :- 442

Product Weight (Gm) :- 348

Ship Weight (Gm) :- 442

Length (Cm) :- 20

Breadth (Cm) :- 18

Height (Cm) :- 6