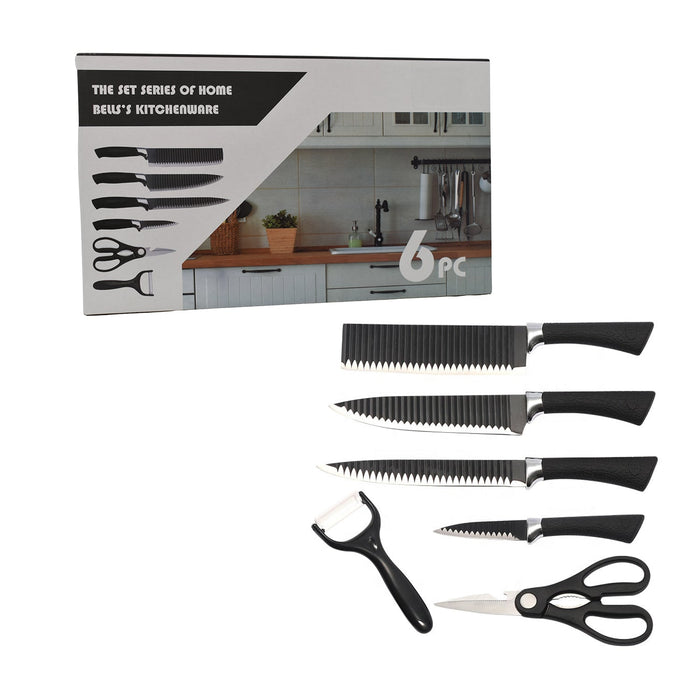 2285 Stainless Steel Knife Set With Chef Peeler And Scissor (6 Pieces)
SKU
2285_6pc_family_knife_set
Sold out
Original price
Rs. 1,499.00
Original price
Rs. 1,499.00
-
Original price
Rs. 1,499.00
Original price
Rs. 1,499.00
Stainless Steel Knife Set With Chef Peeler And Scissor (6 Pieces)

These multi-functional knives will allow the user to hold the knife for more precision. Its sharp edge can mince any vegetable or fruit effortlessly.
Can slice smoothly and cleanly through juicy steaks and chops.
Intended for cutting smaller and thinner slices of meat and fish.
Can cut all types of fruits and vegetables and remove fat or sinew from meat.
This knife set is perfect for peeling and cutting small fruits and vegetables, cutting meat, seafood & vegetables, bottle opener and a nutcracker function.
The scissor is an added benefit. It can be used to cut vegetables, fruits and meat.

Features :

Designed to enhance your kitchen experience.
The 6-Piece Stainless Steel kitchen knives offer the professional quality you need for all your kitchen tasks.
Extraordinarily sharp stainless steel blades resist corrosion.
Stylish as well as functional
This attractive embossed set of knives is a combination of luxurious look and carbon fibre for a sleek and modern appearance.
Physical Dimension

Weight (Gm) :- 644

Length (Cm) :- 36

Breadth (Cm) :- 22

Height (Cm) :- 4