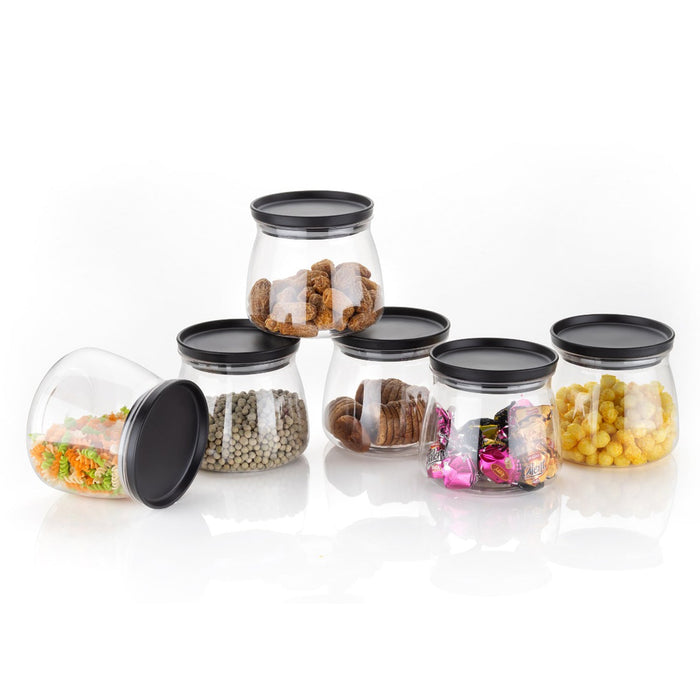 2286 Matka Shaped Jar with Air Tight & Leak Proof Lid (Multicolour) (Set of 6) (900Ml)
SKU
2286_airtight_matka_bowl_6pc
Save

Rs. 634.00
Save

Rs. 634.00
Original price
Rs. 799.00
Original price
Rs. 799.00
-
Original price
Rs. 799.00
Original price
Rs. 799.00
Matka Shaped Jar with Air Tight & Leak Proof Lid (Multicolour) (Set of 6) (900Ml)
The storage Jars have thick side walls for added durability and stability. The clear jar features a wide mouth opening for ease of access and scooping, making the jars perfect for storing masalas, sugar, paperclips on the counter-top or in the pantry, and for storing or showcasing craft or home décor items throughout the home. About Product Our lids provide unique benefits, The lid is easy to remove but has a snug seal that ensures the jar's contents stay fresh. The Food Grade jars is lightweight and microwave safe as well as dishwasher safe Matka Jar.
Features :
Our wide mouth jar is perfect for filling with large fruits and vegetables such as cucumbers, carrots, green tomatoes, and peaches. The fermentation jar's wide mouth allows for easy accessibility to reaching deep inside and cleaning.

Matka shape jar for storage, Pickle jar, Spice jar Avoid use of plastic, use only  bottle for health and safety reasons.

Suitable To Use Multipurpose Storage With Airtight Cap, This Jar Can Also Use In Microwave Oven. Food Grade Jar and Cap Both, Very Useful To Replace Your Plastic Masala Jars

The perfect food storage container option for most food stuff such as cookies, candies, pretzels, snacks, even coffee, beans, flour, sugar. food will be kept fresh and mites free. 

jar is also great for bathroom storage of toiletries, such as Q-tips, cotton balls and bath bombs; fasteners, like screws, small toys, detergent, and buttons.
Physical Dimension

Weight (Gm) :- 2300

Length (Cm) :- 38

Breadth (Cm) :- 26

Height (Cm) :- 12