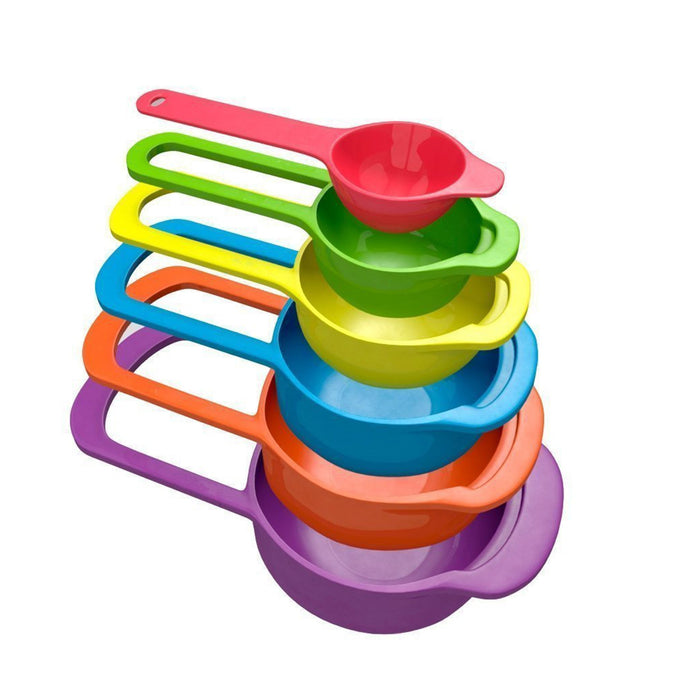 0811 Plastic Measuring Spoons for Kitchen (6 pack)
SKU
0811_6pc_color_measuring_cup
Save

Rs. 118.00
Save

Rs. 118.00
Original price
Rs. 149.00
Original price
Rs. 149.00
-
Original price
Rs. 149.00
Original price
Rs. 149.00
DeoDap Kitchen Cooking Bakery - Measuring Cups And Spoons Set 
Measuring cups and spoons: This set of measuring tools consists of 6 measuring spoons and measuring cups (spoons and cups totally 6 pcs).
Easy-to-use that standard and metric measurements are clearly printed on each handle.
Each of these two combinations is nested together by a removable plastic ring to combine each piece for ease of organization and storage.
Multi-colored look combinations add color to the kitchen and make your cooking more interesting.
These spoons and cups are made of BPA-free plastic and are dishwasher-safe, making cleaning quick and easy. It is recommended to place it on the top shelf of the dishwasher.
It can be used for dry and moist component materials, and various measurements can meet your different requirements at the same time.
Features
The detachable plastic ring makes the products come together to make it easier to find the product when it is used again. It also makes the product easier to store, saves storage space, keeps the kitchen tidy and prevents mess.
The multi-color appearance combination is different from the monochrome product. You can classify materials based on color. Different colors can be used to measure different materials. This way, you can avoid using the same cup or measuring spoon to repeatedly measure the material and make the measurement more accurate. At the same time can add color to the kitchen, make your cooking more interesting.
Safety and Hygiene: This product is made of BPA-free plastic and can be dishwasher-washed or hand-washed.
Specifications
Size: 30ml/60ml /80ml /126ml /260ml 
Color: random color 
Packing: 6 pcs Measuring spoons