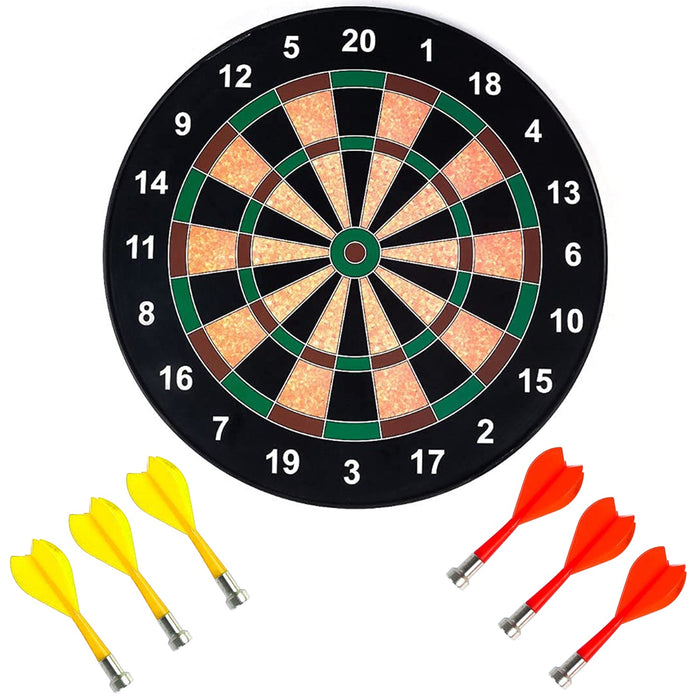 4662 Portable Magnetic Score Dart Board Set
SKU
4662_magnetic_dart_game
Save

Rs. 589.00
Save

Rs. 589.00
Original price
Rs. 999.00
Original price
Rs. 999.00
-
Original price
Rs. 999.00
Original price
Rs. 999.00
?? Indoor and Outdoor Magnetic Score Dartboard Kit with 6 Soft Darts (17 Inch) ??
Darts is a fun and challenging game that builds hand-eye coordination and fine motor strength; however, conventional darts can be dangerous, especially for kids.
The sharp points can stab you or hurt someone who accidentally gets in the way of a throw, but that doesn't mean that you have to forgo playing darts in your home.
The Magnetic Dart Set makes the game of darts plenty of fun and so much safer! With the Cable World Magnetic Dart Set, darts cling to the board with strong magnets rather than with metal points.
?? Helps to Minimize Screen Time
Addictive dartboard for kids to get them away from smartphones and electronic screens, improve their hand-eye coordination and math skills in a fun way.
Dartboard comes with a hook, easy to attach to in any room.
Learn the game of darts, play alone, with a friend or the family, in a safe way
Strong, balanced neodymium magnets. Material that easily and virtually indestructible and the dart always be precisely fly it to suit your Dart performance.
It's so easy to install that all you need is a nail and a hook to hang it.
?? Made with Durable and Safe Materials
The arrow on the dartboard with magnets will not slip or fall down. The set is suitable for all ages and skill levels.
The safest way to play with this dart game uses a strong magnet to hold the darts in place, which eliminates the dangers associated with sharp dots.
Perfect for kids and adults this dartboard is safe for kids ages 6 and up and lots of fun for teens and adults.
The best magnetic dartboard line is made to stand the test of time and built-in accordance with strict safety standards.